An Unfinished Life
(2005)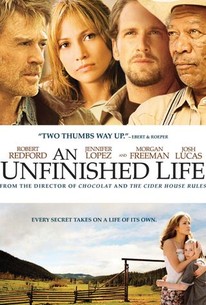 TOMATOMETER
AUDIENCE SCORE
Critic Consensus: A story of disjointed family members yearning for true emotional depth, An Unfinished Life teeters between overtly saccharine sentiments and moments of real intimacy.
An Unfinished Life Photos
Movie Info
Two generations of a damaged family are brought together in this emotional drama. Einar Gilkyson (Robert Redford) was a once successful rancher whose spread went to seed after he developed a serious drinking problem. Now on the wagon, Einar looks after what's left of his spread with his friend Mitch (Morgan Freeman), a one-time cowhand who never fully recovered after being mauled by a bear. Einar once had a son named Griffin, but he died in a car wreck while Griffin's wife, Jean (Jennifer Lopez), was driving; Einar never forgave her for the death, and he had never met the granddaughter she was carrying until she arrived at his doorstep 11 years later. Jean has become involved with a violent man named Gary (Damian Lewis), and seeks refuge on Einar's ranch for the safety of her daughter, Griff (Becca Gardner). Einar reluctantly takes in Jean and Griff, giving them a place to stay as Jean looks for work and tries to put her life back together. But old trouble makes its way back to town in two ways -- Gary tracks down Jean and wants to make her pay for leaving him, while the bear who attacked Mitch comes down from the mountains looking for new prey. An Unfinished Life was adapted from the novel of the same name by Mark Spragg. ~ Mark Deming, Rovi
News & Interviews for An Unfinished Life
Critic Reviews for An Unfinished Life
Audience Reviews for An Unfinished Life
½
Pretty good family drama set out in rural America when a runaway daughter escapes an abusive boyfriend by returning to her small town roots. JLo does better than one might've imagined while up against Redford and Freeman, and the whole feels as involving, though restrained, as what might be a PBS effort. Worthy.
Kevin M. Williams
Super Reviewer
Mitch Bradley: I know people everywhere that thought they got dealt a bad hand.  "Every secret takes on a life of its own." An Unfinished Life isn't the most original thing you'll ever see, but it does do a lot of things well. It's well acted, especially by  screen legends Morgan Freeman and Robert Redford. The Wyoming scenery is beautifully shot and the cinematography is amazing. So those are the things I really loved about the film. For the things I didn't now. Jennifer Lopez is miss cast if you ask me. She doesn't fit the role and is a mediocre, if sexy, actress at best. The other thing I didn't really care for is how the story took the easy way out to man times. There seemed to be some really interesting directions the film could have gone, but they were skipped every time for a more predictable option. Overall I still enjoyed the film as a whole. There were some truly beautiful moments and some occasionally funny ones. This isn't a movie that is overly important, nor will it ever be a classic; but what it is, is a solid piece of filmmaking. Could it have been better? Sure, but as it is; it isn't too bad. 
Melvin White
Super Reviewer
A good drama that indicates the significance of forgiveness, and how it can be tough than vengeance sometimes. Einar (Robert Redford) is the father-in-law of Jean (Jennifer Lopez) whose husband dies in a car accident while she was driving. She leaves her husband's house soon after the incident, but returns years later with her daughter when she needs a hiding place. Einar finds it difficult to forgive her, but he's fond of his grand-daughter. The movie displays how each character deal with their pain. Einar's friend Mitch's (Morgan Freeman) parallel track, also emphasizing the power of forgiveness, is equally good. While it's a bit slow, it's not boring. The humor at regular intervals also makes it lively. Morgan Freeman gives an incredible performance as usual, while Robert Redford and Jennifer Lopez also live their character amazingly and give a natural performance. The girl playing Jean's daughter is also terrific. Check it out if you wanna see a good family drama displaying the aspects of healing, redemption and forgiveness; and if you've patience.
familiar stranger
Super Reviewer
An Unfinished Life Quotes
| | |
| --- | --- |
| Mitch Bradley: | Would you bury me next to Griffin? |
| Elinar Gilkyson: | Don't you think you ought to die first? |
| | |
| --- | --- |
| Jean Gilkyson: | You stay because you don't think you deserve any better, because you think it's the best you can do. |
| | |
| --- | --- |
| Mitch Bradley: | You want to know what I dreamed last night? |
| Elinar Gilkyson: | What? |
| Mitch Bradley: | I dreamed you weren't such a miserable son of a bitch. |
| Elinar Gilkyson: | That's not dreaming, it's wishful thinking. |
| | |
| --- | --- |
| Griff Gilkyson: | Don't bears like honey? Winnie the Pooh does. |