Unfinished Song
(2013)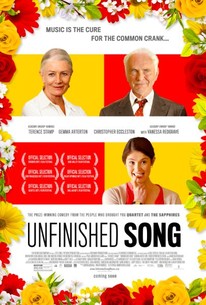 TOMATOMETER
AUDIENCE SCORE
Critic Consensus: It's unabashedly sentimental, but thanks to reliably powerful performances from a well-rounded veteran cast, Unfinished Song proves a sweetly compelling character piece.
Movie Info
UNFINISHED SONG is the funny and uplifting story of Arthur (Terence Stamp), a curmudgeon old soul perfectly content with sticking to his dull daily routine until his beloved wife (Vanessa Redgrave) introduces him to a spirited local singing group led by the youthful and charming Elizabeth (Gemma Arterton). This unexpected friendship and his discovery of music revitalizes Arthur's passion for new adventures and shows us all life should be celebrated at any age. (c) Weinstein
News & Interviews for Unfinished Song
Critic Reviews for Unfinished Song
Audience Reviews for Unfinished Song
Like a mug of tea on a cold day.
Marcus Woolcott
Super Reviewer
While Marion(Vanessa Redgrave) goes to choir practice led by Elizabeth(Gemma Arterton), Marion's husband Arthur(Terence Stamp) spends his retirement either at home or hanging out with his friends at the pub. Just as the choir is getting ready for competition, Marion's cancer returns. Instead of trying to go through the rigors of chemotherapy again, she decides to concentrate on the choir... Aside from its saccharine plot, "Song for Marion" already has a couple of strikes going against it. First, its major attempts at humor come from seniors singing age-inappropriate songs. Plus, the world is really not ready for a super-perky Gemma Arterton. At the same time, Vanessa Redgrave and Christopher Eccleston are both very good in support. That brings us to Terence Stamp who carries and grounds the movie at the same time with his sensitive, yet tough, performance.
Don't think I'd have much to say about this movie, hopefully. Last time I said that was with O Brother, Where Art Thou? and I wrote a long ass review. But I digress, this is a pretty good movie with a good cast. It is a little sentimental, but thankfully the film has enough good stuff in it that the sentimentality isn't really that bothersome, not like it was in Instructions not Included. And I liked the fact that the movie wasn't as melodramatic as you'd have thought given the synopsis. So I appreciate the fact that the film didn't really try to manipulate your emotions. Well, other than the climactic moment of the film, which is Terrence Stamp's solo during the choir's performance. It's not exactly manipulative in the traditional sense, but it was designed to get the tears rolling, tears of happiness at seeing this cantankerous old man finally overcoming every obstacle in front of him, some of these by his own doing. The songs are also well-done and fun, though I think the film could've used more. But I'm not complaining, the movie's certainly still good. I can't believe I kept this as short as I did. Regardless this is a good film with a great cast and some sensitive direction help keep this film from being nauseatingly sentimental.
Jesse Ortega
Super Reviewer
Unfinished Song Quotes
There are no approved quotes yet for this movie.