Unfriended: Dark Web
(2018)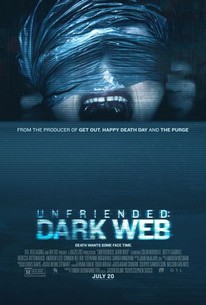 TOMATOMETER
AUDIENCE SCORE
Critic Consensus: Unfriended: Dark Web is more interested in chills than an exploration of its timely themes, but horror fans should still find this sequel to be steadily, undeniably effective.
Unfriended: Dark Web Videos
Unfriended: Dark Web Photos
Movie Info
When a 20-something finds a cache of hidden files on his new laptop, he and his friends are unwittingly thrust into the depths of the dark web. They soon discover someone has been watching their every move and will go to unimaginable lengths to protect the dark web.
Critic Reviews for Unfriended: Dark Web
Audience Reviews for Unfriended: Dark Web
½
This is one of the most well-made movies that I really didn't like. To be honest, I kind of hated it, even though from a technical perspective it's hitting so many of the right marks. It uses the format of the first Unfriended in a much better way, expanding on the formula and pushing it to its limits. A lot of my annoyances from the first like the weird glitching and computer bugs are actually given story reasons that add to the creepiness. The movie also flows really quickly, and it's relentless in it's tension and sense of paranoia and discomfort. I am a little curious about this directors next work, because he has crafter a pretty brilliant techno-thriller here. But here's the problem, and it is a HUGE problem: to what end? The movie made me sad, cold, hopeless, and afraid. That was it's point, but why? It sort of feels like an old person screaming about how scary the internet is but with the technical competence to do so, but with no real thesis beyond "be afraid!". I guess as someone who grew up in the early days of a less regulated internet, with vague connections to darknet material, I know the true stories, so it all just felt a little too real to me. In a way it hits this uncanny valley between a true crime serial and an episode of Criminal Minds; not real enough to be educational, not fake enough to be entertaining, so in the end, it's just cold and unpleasant. It's a shame because it's so well constructed and the actors are all clearly giving it their all, but the end result is such a miserable piece of work that left me empty.
Michael Malan
Super Reviewer
Something that I've noticed recently in horror franchises that have tried to get off the ground in the past couple of years, the second entry is actually better than the first. In ages past, a thing unheard of, but now at least as common as not. Same goes for Unfriended: Dark Web. Just about everything is one step up from the first Unfriended movie: Acting, AV, urgency, the shorter wait times, and the new direction Dark Web takes in terms of its antogonists (I won't spoil it for you, but surely you're capable of reading a title and putting it together for yourself) works better in this one too. I feel at least. Now neither of these films are perfect, but the first Unfriended movie was okaaaaaaaaay, and this one has managed to push it by the skin of it's teeth over in to what I could honestly argue is "good".
½
I have no idea how much of what goes down in this movie is based in reality, but even if it has only a shred of truth to it this more than scared the shit out of me. #Shook
Philip Price
Super Reviewer
Unfriended: Dark Web Quotes
There are no approved quotes yet for this movie.