The Unholy Three
(1925)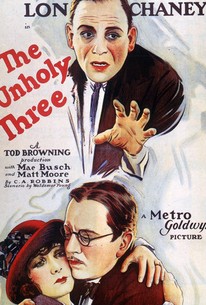 Movie Info
A ventriloquist (Lon Chaney) leaves the carnival midway to enact a wicked scam with his two pals, a strongman, a midget and a lady pickpocket. The bellytalker opens up a pet shop and begins selling "talking" parrots to wealthy patrons. Upon arriving home, the victims are dismayed when their formerly loquacious birds clam up. Ever the good business man, the petshop owner visits them. He brings him a baby carriage containing the midget who cases out the joint while the ventriloquist makes the parrots talk again. The crooks' venture proves lucrative and soon they hire a new clerk. The pickpocket falls in love with him. Later when the strongman and the midget disregard orders and the ventriloquist tries to frame the clerk. But the thieving girl pleads with him and offers to marry the voice-thrower in exchange for the clerk's freedom. Using his skills, the ventriloquist saves the crook. Later the strongman and the midget meet with final justice at the hands of a murderous ape. Meanwhile, the ventriloquist decides that crime really doesn't pay and after gallantly freeing the thief to be with her true love, resumes his life in the carnival.
Critic Reviews for The Unholy Three
Audience Reviews for The Unholy Three
½
Another good turn from Lon Chaney. He plays a side show ventriloquist (in a silent movie!?!?) who, along with Hercules the Strong Man (Victor McLaglen) and Tweedledee the Smallest Man (Harry Earles), call themselves the Unholy Three and are burglars. The remake talkie from 1930 is very similar, and they both have their merits. But the last scene of this silent version pushes it slightly over the other for me. Very moving, and shows how little Chaney had to do to get a point across. This films gets an extra 1/2 star just for that few seconds of film.
tod browning, king of the freaks. better than the remake by jack conway from 1930, which is mostly notable for being lon chaney's only talkie
Stella Dallas
Super Reviewer
The Unholy Three Quotes
There are no approved quotes yet for this movie.