The Uninvited
(2009)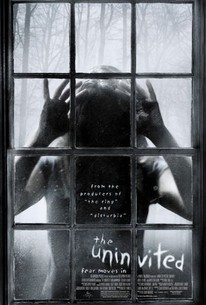 Movie Info
Based on Kim Jee-Woon's 2003 Korean horror film, "Changhwa Hongryon," "The Uninvited" revolves around Anna, who returns home after spending time in the hospital following the tragic death of her mother. Her recovery suffers a setback when she discovers her father has become engaged to her mother's former nurse, Rachel. That night, Anna is visited by her mother's ghost, who warns her of Rachel's intentions. Together, Anna and her sister try to convince their father that his current fiancée is not who she pretends to be, and what should have been a happy family reunion becomes a lethal battle of wills between stepdaughters and stepmother.
News & Interviews for The Uninvited
Critic Reviews for The Uninvited
Audience Reviews for The Uninvited
½
A rare case of American remake that I find better than the original film, since the tension is carried out much more carefully here and with a more concise plot that wisely avoids the many twists in Kim Ji-Woon's story and presents a more compelling reason to leave us scared.
Carlos Magalhães
Super Reviewer
½
Wastes two very good performers, Elizabeth Banks and David Strathairn, in a murky silly wannabe thriller.
The Uninvited relies too heavily on cheesy dialogue, and jump scares to really be that frightening. It's predictable and unimaginative plot are silly, but the actors really do try their best with the material they are given. But alas, they can't save this mess. My friends and I saw the ending coming half-way through the film. This was an uninvited entry into the horror movie genre.
Raymond Wieser
Super Reviewer