The United States of Leland
(2004)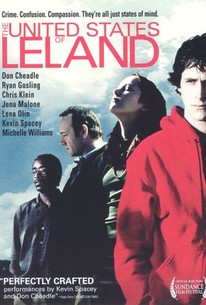 TOMATOMETER
AUDIENCE SCORE
Critic Consensus: The United States of Leland has its moments, but they're undermined by a muddled plot, unsympathetic characters, and frustratingly uneven performances.
The United States of Leland Videos
The United States of Leland Photos
Movie Info
Produced by Kevin Spacey, The United States of Leland is a psychological drama concerning the aftereffects of a brutal murder. It's also the first big-studio theatrical release for writer/director Matthew Ryan Hoge, whose previous work consists of the independent comedy Self Storage. Ryan Gosling plays Leland, an imprisoned teenager doing time for the stabbing murder of a disabled boy. Prison writing teacher Pearl Madison (Don Cheadle) gets caught up in the story with the intention of making a book out of it, especially when he finds out that Leland's father is the famous novelist Albert Fitzgerald (Spacey). Pearl's investigation uncovers some of the details and effects of the murder for everyone involved, including the victim's parents, Harry (Martin Donovan) and Karen Pollard (Ann Magnuson). Jena Malone plays Becky, the teenage junkie who is both Leland's ex-girlfriend and the victim's sister. The situation also complicates the relationship between Becky's older sister, Jennifer (Michelle Williams), and her sensitive boyfriend, Allen (Chris Klein). The United States of Leland premiered at the 2003 Sundance Film Festival. ~ Andrea LeVasseur, Rovi
Critic Reviews for The United States of Leland
Audience Reviews for The United States of Leland
Crime. Confusion. Compassion. They're all just states of mind. Great Film! In short, it is a well acted, well directed ×movie. The story is not a feel good one, but I feel if you don't come away from the ×movie feeling good, you may just have missed something. Gosling gives an incredible performance that really only somebody of his extreme talent could deliver. Somehow, Gosling is able to make the killer of an autistic child sympathetic. To characterize it as "art house" is unfair, in my opinion, but as our society likes labels, this is probably the one that fits. If you find you know everything there is to know about the world... I'd suggest skipping this one. If you feel movies should be a form of escape "from the world"... you won't find it here. But if you do watch it... you just might find something in yourself. After stabbing an autistic boy, the sixteen year old troubled and pessimist Leland P. Fitzgerald is sent to a juvenile detention. His teacher and aspirant writer Pearl Madison gets close and tries to understand him, first with intention of writing a book, and later becoming his friend. Leland slowly discloses his sad vision of world.
Ryan Gosling, and Don Cheadle, are fantastic in this interesting take about a teenager who commits a murder, but can't recall the crime. Gosling's character, with his gentle demeanor, make it hard to grasp why he would do such a thing. Young Ryan's range of talent really shines here. He has such a way about his display of cool emotions that I find mesmerizing. Really well done film...
Cynthia S.
Super Reviewer
"I think this is the film that really had me start paying more attention to Ryan Gosling, who is now a big favorite of mine. He plays such a complicated troubled soul in this film. His performance will make you take notice of him if you have yet to. I got very wrapped up in the story and these character's. It is an unconventional story that delivers an intense look inside a family full of tragedy. Leland Fitzgerald is quite insightful and the things he says are really thought provoking. It's just a really great film."
Leland: "I think there are two ways you can see the world. You either see the sadness that's behind everything or you choose to keep it all out."

Leland: "The worst part is knowing that there is goodness in people. Mostly it stays deep down and buried. Maybe we don't have God because we're scared of the bad stuff. Maybe we're really scared of the good stuff. Because if there's no God, well, that means it's inside of us and we could be good all the time if we wanted. So when we do bad things, it'd be because we want to or because we have to. Or maybe we just need the bad stuff to remind us what the good stuff is in the first place."
♥˩ƳИИ ƜѲѲƉƧ♥
Super Reviewer
The United States of Leland Quotes
| | |
| --- | --- |
| Leland Fitzgerald: | Maybe God's there because people get scared of all the bad stuff they do. |
| | |
| --- | --- |
| Pearl Madison: | I'm only human, man. |
| Leland Fitzgerald: | It's funny how people only say that after they do something bad. I mean, you never hear someone say, "I'm only human" after they rescue a kid from a burning building. |
| | |
| --- | --- |
| Becky: | I don't want to hurt you. |
| Leland Fitzgerald: | Then don't. |
| | |
| --- | --- |
| Leland Fitzgerald: | I think there are two ways you can see the world. You either see the sadness that's behind everything or you choose to keep it all out. |