Unknown
(2006)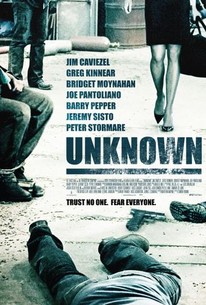 TOMATOMETER
AUDIENCE SCORE
Critic Consensus: Though it boasts a talented cast, this thriller fails to make you care about the twisty mystery of the men's identities and situation.
Movie Info
When five men wake up in a locked warehouse with no memory of how they arrived there, the race is on to stay alive long enough to distinguish the good guys from the bad guys in a mysterious thriller from music-video director Simon Brand and first-time feature-film screenwriter Matt Waynee. James Caviezel, Greg Kinnear, Bridget Moynahan, Joe Pantoliano, and Barry Pepper star in a thriller that combines the claustrophobic tension of Cube with the simmering character drama of Reservoir Dogs.
Critic Reviews for Unknown
Audience Reviews for Unknown
½
The hook here, the catch (and a very good one it is) is that instead of the usual 1 guy with amnesia (how many films??? and who could count the number??? I used to wish I would get amnesia, but noooo. Neither have I ever met anyone who has either!) there's 5 guys with amnesia. And in a minute they figure out A) their memory is ever so slowly returning and that B) not everybody's in the room's a boy scout. There could be foul play in the immeadiate future ... just a lot of fun, a good script, nice ensemble performances, and the proverbial twist that zings right at the close.
Kevin M. Williams
Super Reviewer
½
Trust no one. Fear everyone. Excellent Movie! The film story just keeps changing even at the end, amazing plot! Good acting roles by everyone involve. Highly recommended film for any real movie buffs. How would you feel if you were tied to a chair, in a locked-down warehouse, in the middle-of-nowhere, with no recollection whatsoever of what happened, or what didn't. To add to it, you're not alone. There are four others with you in the exact same state of mind. Some of the group are responsible for putting the others there BUT no one knows who's who. Thats how this movie starts, getting grittier with every passing minute. Five guys are asleep in an abandoned, run-down warehouse. There has been some violence. One is handcuffed by one hand to a railing; one is tied up. "Blue jean shirt" wakes up first, and has no idea who he is or where he is. He has no memory. The other four are still asleep, but Blue Jean Shirt makes the handcuffed man more comfortable and wanders around. The phone rings and Blue Jean Shirt has no idea what to make of it; by this time it is obvious there has been violence. Blue Jean Shirt fakes his way through the phone conversation, including lying about a Glock being in the desk drawer. The plot unfolds slowly as the other four wake up and they try to find a way out of the warehouse. They get along sometimes, sometimes they argue violently; you know some of these five are bad guys and then you get the feeling that some are good guys as the clues continue coming and fall into place slowly, as the movie plot twists its way to the surprise at the end where it all falls together
½
"Trust no one. Fear everyone." Five men wake up in a locked-down warehouse with no memory of who they are. They are forced to figure out who is good and who is bad to stay alive.
REVIEW
In the end the audience learns there has been a kidnapping but I think the screenplay was too complicated to follow, throwing the viewer in the middle of too many twists. Characters are well assorted and all do quite well, not only the five main actors - James Caveziel, Greg Kinnear, Barry Pepper, Jeremy Sisto and Joe Pantoliano - but also the ones playing the smaller roles. The director wanted "Unknown" to work as a puzzle, providing a good ride for the audience by showing invention, tension and audacity. Would say that the finale leaves a bit to be desired, not because I was expecting the happy ending (in the sense of the cheating wife being arrested along with the undercover agent) but I'd have preferred a more detailed description of the abduction, that is the assumption/introduction of the story.
Lorenzo von Matterhorn
Super Reviewer
Unknown Quotes
There are no approved quotes yet for this movie.