Unknown Island
(1948)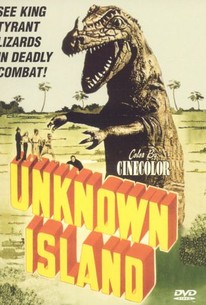 AUDIENCE SCORE
Critic Consensus: No consensus yet.
Movie Info
In this science fiction adventure, John Fairbanks (Richard Denning) is a former Marine who, while on duty, discovered a previously unknown island in the Pacific where dinosaurs and other prehistoric animals have somehow managed to escape extinction and live as they did millions of years ago. Still traumatized by the experience, Fairbanks is persuaded to return by Ted Osborne (Philip Reed), a photographer who thinks that a few shots of some real live dinosaurs could shift his career into high gear. Accompanying John and Ted are the latter's sweetheart Carol (Virginia Grey) and Capt. Tarnowski (Barton MacLane), the ship's pilot -- who is not a man to be trusted. Ted and his crew soon find out that John's story is true, and they discover why the danger has taken such a toll on him, as they soon find themselves on the run from hungry dinosaurs.
Critic Reviews for Unknown Island
All Critics (1) | Fresh (0) | Rotten (1)
The sci-fi film provides only risible scares with its ineffective special effects and further irritates with a dull adventure story that lacks much of an appeal.
Audience Reviews for Unknown Island
This movie's original tagline read "So spectacular it took one year to produce!". I can only assume the film-makers were really poor at time management as there is nothing on screen to warrant such a lengthy production. Perhaps rubber costumes took a lot longer to construct in the forties than today? It might be shot in glorious technicolor but don't let that fool you; this is most definitely a B-movie. Usually that means you're in for a fun time but "Unknown Island" is for the most part just dull. In the wake of "King Kong" in the early thirties we had a bunch of great pictures featuring expeditions to strange islands inhabited by bizarre creatures; "The Most Dangerous Game" and "Island of Lost Souls" being two of the best. The advent of World War II killed off that particular sub-genre, the idea of Americans sailing off to their doom in the Pacific had sadly become a reality. This late entry has none of the artistry of it's earlier counterparts. At least with the older films you were always guaranteed some pretty impressive stop motion creatures but here they're replaced by the dreaded man in a rubber suit gimmick. Judging by the stumbling movements of the "dinosaurs" it seems they recruited their actors from the local drunk tank. They bump into and fall over each other like a surreal cross between "The Banana Splits" and the shambling zombies from "Night Of The Living Dead". The producers pull out all the stops for the climax which features a creature with the body of an Orangutan and the head of a Doberman. Denning, here playing an alcoholic ex-soldier, would go on to star in quality sci-fi fare like "Target Earth" and "Creature From the Black Lagoon". I advise you to watch those before you even think of going near this effort.
The Movie Waffler
Super Reviewer
One of many dinosaur island discovery movies, nothing special.
Unknown Island Quotes
There are no approved quotes yet for this movie.