The Unloved
(2009)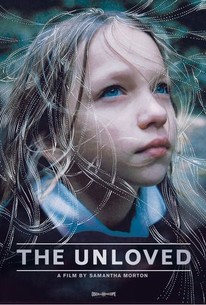 Movie Info
Two-time Academy Award nominee Samantha Morton's directorial debut THE UNLOVED is a powerful and personal look at the strength and resilience of youth. Morton tells the story of eleven-year-old Lucy (newcomer Molly Windsor) seeking refuge as a ward of the state from her abusive father (Robert Carlyle). Placed in a tumultuous foster home, Lucy befriends her rebellious teenage roommate Lauren (Lauren Socha), and together they navigate the cold and uncaring world before them. With a screenplay by Tony Grisoni (FEAR AND LOATHING IN LAS VEGAS) based on original material by Samantha Morton, THE UNLOVED captures the subtle magic and melancholy of childhood while painting an honest portrait of a girl torn between a broken family and an inept social system. -- (C) Oscilloscope
Critic Reviews for The Unloved
Audience Reviews for The Unloved
½
I seriously don't know if there is a more boooring movie out there, but I surely hope I never come across it and stick it out to the end like I did this movie. Good lord, the final scene alone just went on, and on. ...
Cynthia S.
Super Reviewer
½
In "The Unloved," her teachers suspect something is seriously wrong with Lucy(Molly Windsor). But their hands are tied until she finally musters the courage to tell them about the physical abuse she suffers at the hands of her father(Robert Carlyle). Now, the authorities place her in a children's home while she waits for a permanent foster home and placement in a new school. In the meantime, she gets to room with 16-year old Lauren(Lauren Socha), who is told to look after her as a sign of responsibility which she promptly squanders. "The Unloved" is a moving social drama wherein director Samantha Morton takes an intriguing artistic approach, starting with the long takes that frame the movie. The first is almost impossible to watch as it builds slowly to an assault which while thankfully offscreen is still hard to contemplate. The rest of the movie is not as difficult to watch. In almost every frame is Lucy and her endless gaze, observing the adults around her as they move into and out of frame and her life. Around such flawed and messed up role models, does Lucy have any hope in such a cruel and uncaring world?
½
This directorial debut from actress Samantha Morton was first aired on television. Due to it's success, it was subsequently released theatrically and deservingly so. This is a film that deserves a wider audience and deserving of the acclimations it recieved also. The unloved of the title is 11 year old Lucy (Molly Windsor). She has a distant mother (Susan Lynch) who couldn't care less and a father (Robert Carlyle) who beats her. It's not long before she is taken into care and the lonliness she experiences, when she is supposedly being supported, is just as damaging and demoralising as her life at home. Straight away we are given a glimpse of the tumultuous life of Lucy in a harrowing opening scene with Carlyle on typical edgy and threatening form as her physically abusive father. Following on from this we are given a candid portrayal of childhood within the British care system and a magnetic and heartbreaking performance by young Molly Windsor. Without uttering a word, she manages to convey her lonliness and suffering by just a glance. This is loosely based on Samantha Morton's own childhood and at times I had to remind myself that it wasn't her I was watching onscreen. It's a deliberately paced and beautifully shot film, not without some haunting moments and shows great promise for the two time Oscar nominated actress behind the camera. For as little screen time as he gets, Robert Carlyle still manages a magnificent and multi-layered portrayal of a downtrodden and abusive alcoholic. This is a film that is certainly bleak and may be off putting to some, but underneath it all is a resilient beating heart and despite the odds, still manages to show positivity. A few loose ends went without satisfactory conclusions but other than that, this is a film where the performances and harrowing nature linger long after viewing it. A persistantly vigorous film and a highly emotional experience. Sensitive, realistic dramas don't come much more powerful than this.
Mark Walker
Super Reviewer
The Unloved Quotes
| | |
| --- | --- |
| Father: | OK, I'm going to give you one last chance. Where's the fooking money! |
| | |
| --- | --- |
| Mother: | Lucy? |
| Lucy: | Yes,mum? |
| Lucy: | Yes, mum? |
| Mother: | (while crying)Don't you ever,EVER be sorry about coming to see your mummy okay? |
| Mother: | (while crying) Don't you ever, EVER be sorry about coming to see your mummy, okay? |
| Mother: | (while crying) Don't you ever, EVER be sorry about coming to see your mummy. Okay? |