Unstoppable
(2010)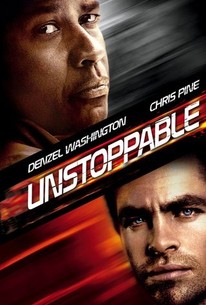 TOMATOMETER
AUDIENCE SCORE
Critic Consensus: As fast, loud, and relentless as the train at the center of the story, Unstoppable is perfect popcorn entertainment -- and director Tony Scott's best movie in years.
Movie Info
In this action thriller from director Tony Scott, rookie train operator Will (Chris Pine) and grizzled veteran engineer Frank (Denzel Washington) learn that a runaway locomotive carrying carloads of dangerous chemicals is headed for Will's small Pennsylvania hometown, where his wife and child live. In order to save the day, they must figure out how to catch up to the rogue engine, and stop it before harm comes to the town. Standing in their way is Galvin (Kevin Dunn), the head of the company who is more interested in saving the stock price than lives. On the plus side, the duo have competent corporate employee Connie (Rosario Dawson) on the radio, talking them through their various attempts to corral and then stop the potentially lethal locomotive. ~ Perry Seibert, Rovi
Critic Reviews for Unstoppable
Audience Reviews for Unstoppable
½
Tony Scott brings a true event to the big screen in the most tense and dramatic way possible. Unstoppable presents the typical-Scott-crazed direction along with a nerve-racking plot that gets you from start to finish, and not to mention Denzel and Chris' stellar duo. 4.5/5
Eugene Bernabe
Super Reviewer
½
Inspired from a true story. Maybe some day I'll check out some real footage of the events. As someone said, not a great movie, but watchable for what it is.
familiar stranger
Super Reviewer
½
Well those Scott brothers sure know how to make rip roaring films don't they. I went into this with lots of mixed feelings, its about a runaway train...hardly the stuff of great films is it and I've seen a few similar average films in the past, hell the title is even a bit lame really isn't it. I couldn't really think how Mr Scott could make this bluecollar job look cool but by jove he did. Lets see now...he's made the Underground/Subway look cool, working on board a submarine look cool (although it is kinda cool really isn't it but I bet you never thought about it before his movie). Stock car driving now looks cool and making all fighter pilots look like young handsome brooding studs. Well now its the turn of the humble loco driver to be uber cool. From the outset the way the loco gets loose and goes on the run is laughable to be honest. I dunno if this happens in the US a lot (scary if it does, this is based on a real event!!) but the way everyone seems to think its funny and not a problem that a loco is unmanned and running away is frankly bizarre. I imagine the practice of getting out of your cab to swing points whilst the train is still moving has been stopped. As the story develops we do get the typical Scott direction of trying to make us think that working in a loco yard (train driver/shunter) is cool. Its filmed with dramatic angles, sexy lighting, quickfire editing and plenty of in-house railway jargon that some won't follow but it sounds good. Somehow all the grunting cocky cowboy-like drivers, a sexy controller and the fast talking hip engineers doesn't really match reality, you can see Scott is eager to sex-up this field of work in his usual style. There should have been more shades worn in this. Little silly niggles aside the film is a spectacular affair with sweaty tense action and thundering collisions that look really expensive and make you wince. They seemed to be using real loco's here as I saw no CGI used anywhere, all very impressive stunts. Location work is beautiful too I might add, rural US of A with the lovely foliage of Virginia. Scott knows how to make a gritty fast film and this delivers on every level I assure you. Despite the rather dated plot concept and very obvious conclusion the film is terrific fun and will have you biting your nails to the last second...despite knowing damn well they will succeed. His usual choice of actor Washington is on board and he adds that perfect rundown regular Joe quality to the film with his usual stoic performance. Pine is also fine but can't quite match Washington for realism in the job, plus he looks too heroic really, way too buff for this. Only problem is, the way they manage to actually stop the loco, they could of done that at any point at anytime as far as I can tell. The whole time your thinking why not just do that? All you need is a fast car...then they do it at the end and I was like...duh! Even though the movie is based on a real event its easy to forget and it does come across like a full blown action thriller. The movie is promoted as such and it does deliver on all accounts...even though you know what's gonna happen. Throw a few terrorists into the fray and you would have had 'Die Hard' on a locomotive. All aboard for a chuffing good ride (pun fully intended).
Phil Hubbs
Super Reviewer
Unstoppable Quotes
| | |
| --- | --- |
| Connie: | Excuse me, can u help me? |
| Frank: | Connie? |
| Connie: | I can't decided which 1 of u i have to kiss first |
| Connie: | I can't decided which one of you I have to kiss first. |
| Frank: | Me |
| Frank: | Me. |
| | |
| --- | --- |
| Connie: | THAT Was 10 Million Pounds, Mr. Galvin, And This Is The Sound Of Me Saving Your Ass!!!! |