Untamed Heart
(1993)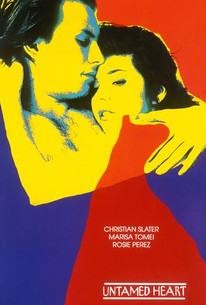 TOMATOMETER
AUDIENCE SCORE
Critic Consensus: Untamed Heart offers moderately moving evidence of just how much a flawed screenplay can be elevated by the right cast -- and how sometimes, it still isn't quite enough.
Movie Info
An outgoing waitress unexpectedly falls in love with a shy but extremely gentle busboy in this bittersweet romance. She soon learns that the young man is suffering from a rare heart condition, one which eventually threatens to bring their relationship to a premature end.
News & Interviews for Untamed Heart
Critic Reviews for Untamed Heart
Audience Reviews for Untamed Heart
I loved Slater in this movie, and the whole love story is pretty good for the most part, but then it changes all of a sudden, with the revelation of the whole baboon's heart thing, and it gets weird. I half liked this movie, and half hated it.
½
"I am going to fall in love with you. You don't have to love me back. I am going to give you my heart." I saw this again after a long time. I remember the film to be a sweet film with a lot of heart. Marisa Tomei has always been a favourite of mine, in my opinion she is one of the most beautiful and talented women ever. There's just something about her that makes me wanna see her films. I don't know if it's her dark eyes, her beautiful smile or her voice... So anywho...What was I talking about? 'Untamed Heart' tells the story of a young woman who just can't find love. She falls easily in love with men but fails to keep it together. She works at a diner were a shy young man, whom she would never even laid an eye on, rescues her from two rapists. She will find out that two people, completely different, can be perfect together... I just can't help it but I love this film. Marisa Tomei is just amazing in her role and I'm not being biased here. If you compare her roles that she's made, it's clear that she tends to study her characters thoroughly. I'm sure that she is one of the most versatile actresses of her generation. Christian Slater, whom I've never liked that much, was at the peak of his career while making 'Untamed Heart'. He had starred in 'Young Guns 2', 'Robin Hood: Prince of Thieves', 'Heathers' etc and continued to star in big movies after this one. But only for a while... But his performance in this movie is so emotionally appealing that I'll admit that I needed tissues. And I'm not saying that I was wiping my nose... 'Untamed Heart' is simply lovable. The story is kinda silly but it works because this film has more heart than most of the other genre movies. But like the other similar movies, 'Untamed Heart' is very surypy and it needs the viewer to have an open mind for the romance to completely work. The chemistry between the two leads works wonderfully and the dialogue that they have is one of the best parts in the movie. 'Untamed Heart' comes highly recommended to those who want to see an emotional film that does not end in a predictable way. And as a bonus, you get to see glimpses of a real hockey game featuring the late Minnesota North Stars (Dallas Stars as of today) and the Detroit Red Wings. Love and NHL hockey... That's all we need. "I wasn't finished. - Finish."
UNTAMED HEART is a film that has two strong and compelling performances by the lead actors and is a film that makes you realize the joy of the human existence and especially the rapture of love.
Untamed Heart Quotes
| | |
| --- | --- |
| Adam: | (to Adam) Don't let people stand in your way. They're just people. like you and me! Well, maybe not like you. I don't know if I have ever met anyone like you before. |
| Caroline: | [to Adam] Don't let people stand in your way. They're just people. Like you and me! Well, maybe not like you. I don't know if I have ever met anyone like you before. |
| Caroline: | [To Adam] Don't let people stand in your way. They're just people. Like you and me! Well, maybe not like you. I don't know if I have ever met anyone like you before. |
| | |
| --- | --- |
| Caroline: | (Talking about Adam) He doesn't make sense, I don't make sense, together we make sense. |
| Caroline: | [Talking about Adam] He doesn't make sense, I don't make sense, together we make sense. |
| | |
| --- | --- |
| Caroline: | You love with your mind and soul, not your heart. |
| Adam: | (touches his chest) Then how come I hurt here when your not around |
| Adam: | [Touches his chest] Then how come I hurt here when your not around. |