Unthinkable
(2014)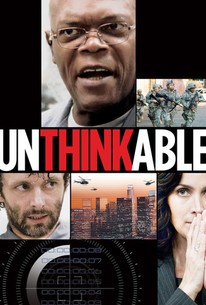 AUDIENCE SCORE
Critic Consensus: No consensus yet.
Movie Info
An edge-of-the-seat thriller set against an urgent contemporary backdrop, "Unthinkable" begins as a Muslim extremist places three separate nuclear bombs in mystery locations around America. With our country's entire counter-terrorism force rushing to action, the culprit is soon apprehended, but the whereabouts of his bombs remain unknown. Heading up the investigation-or so she thinks-is FBI agent Helen Brody, an expert in her field, who has only two days to find the bombs but who, unfortunately, is not making much progress. Then, Brody is forced to work alongside a freelance interrogator, known only as "H" (Jackson), whose brutal methods are diametrically opposed to hers. "H" crosses lines that no one else will, but since he gets results, he has the full support of the government. With the clock ticking, and the moral compass constantly shifting, Brody-and the audience-must question their most basic assumptions about fear and paranoia, about strength and cruelty, and about right and wrong. Under the expert guidance of director Gregor Jordan, "Unthinkable," stands.
Critic Reviews for Unthinkable
Audience Reviews for Unthinkable
A routine thriller about finding the usual obligatory hidden bomb (ok! ok! so it's an atom bomb!) in time is given some serious teeth with the question of how far we might be willing to go in order to fight extremism. Me likey, even though the characters are often little more than simply cut-outs. The arguing over whether or not to torture or not gets to feel stagey at times, but the overall production makes its point and we have a darntootin' good time along the way. Michael Sheen is the glue that holds it all together.
Kevin M. Williams
Super Reviewer
An intense thriller that is thought provoking. But it's sloppy handle leaves more to be desired!
Film Crazy
Super Reviewer
An intense, hard-boiled and mind-blowing edge of your seat thriller. A powerful and astonishing film. It's a timely, stunning and relentlessly exciting film that should not be missed. A film that's as real and gut-wrenching as it is shockingly entertaining. It's solidly well-crafted and superbly performed. A ticking clock cat and mouse ride that's razor-sharp and utterly suspenseful from start to finish. An excellent film. This is one explosive and heart-pounding ride that commands your attention and has a vicious and cold message. Samuel L. Jackson gives one of the most mesmerizing and unforgettable performances of his career, its right up there with Black Snake Moan and Pulp Fiction. Jackson is a pure knockout, you will not want to take your eyes off him. Carrie-Ann Moss is outstanding, she brings as much strength to to her character as she does emotional vulnerability. Michael Sheen is brilliant, he acts with fire and riveting energy that truly explodes in this film.
Unthinkable Quotes
| | |
| --- | --- |
| "H": | Every man, no matter how strong he is, lies to himself about something. I will find your lie. I will break you. |
| | |
| --- | --- |
| "H": | You hear that yusef? You're in the clear, you're a free man. You don't even have to tell them about the 4th bomb. |
| "H": | You hear that Yusef? You're in the clear, you're a free man. You don't even have to tell them about the 4th bomb. |
| | |
| --- | --- |
| "H": | Ahh... military intelligence. The great oxymoron. |
| | |
| --- | --- |
| "H": | There is no H. and Younger... there's only victory and defeat. The winner gets to take the moral high-ground, because they get to write the history books. The loser... just loses. The only miscalculation in your plan... was me. |