Until the Light Takes Us
(2009)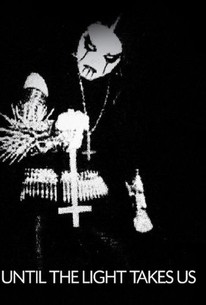 Until the Light Takes Us Photos
Movie Info
"Until The Light Takes Us" tells the story of black metal. Part music scene and part cultural uprising, black metal rose to worldwide notoriety in the mid-nineties when a rash of suicides, murders, and church burnings accompanied the explosive artistic growth and output of a music scene that would forever redefine what heavy metal is and what it stands for to other musicians, artists and music fans world-wide. The film goes behind the highly sensationalized media reports of "Satanists running amok in Europe" to examine the complex and largely misunderstood principles and beliefs that led to this rebellion against both Christianity and modern culture. To capture this on film, directors Aaron Aites and Audrey Ewell moved to Norway and lived with the musicians for several years, building relationships that allowed them to create a surprisingly intimate portrait of this violent, but ultimately misunderstood, movement. The result is a poignant, moving story that's as much about the idea that reality is composed of whatever the most people believe, regardless of what's actually true, as it is about a music scene that blazed a path of murder and arson across the northern sky.
Critic Reviews for Until the Light Takes Us
Audience Reviews for Until the Light Takes Us
Good enough to have kept me awake in its entirety. Apparently, more than good enough would have been more appreciated.
familiar stranger
Super Reviewer
½
Sometimes disjointed but never dull, Until the Light Takes Us offers an insider's point of view into the oft misunderstood culture of Norwegian Black Metal.
Randy Tippy
Super Reviewer
"Music. Arson. Murder. Art. Black Metal." If you think metal bands in America are extreme wait until you see and listen to the people behind the Black Metal scene in Norway. In America we have Slayer, a band who sings lyrics like, "God Hates Us All." In Norway they have Banda like Mayhem, who take a picture of their bandmates dead body after suicide and put it on an album cover.  This documentary is really about a few members of the Black Metal scene and how they took their extreme views to new heights with the burning of churches. Now if your a fan of metal, like myself, you've already heard of these church burning and the bands involved. Like their music, these bands go way to far just to be extreme. I think I can speak for most in saying that the Black Metal music is pretty horrible. But that's not what this documentary is about. All in all it's about the extremes some of these musicians went to. For such a fascinating subject as this is, you would expect a entertaining and equally fascinating documentary. Until The Light Takes Us is anything but fascinating and entertaining. It's actually the complete opposite; it's boring. These filmmakers took a subject that you couldn't possibly believe could be boring and they did it. They didn't dive in deep enough. It didn't seem like they wanted to question these people for what they are, complete freaks. It's almost like the filmmakers are afraid of them. They could have taken a chance and really tried to get into the minds and psyche of these musicians, but they didn't. This documentary is really just a blown opportunity. Not worth the watch at all. Other documentaries have talked about it in less detail and with less time and got more out of it then this. Look at Sam Dunn's metal documentary for a better look at the Black Metal scene then this.
Melvin White
Super Reviewer
Until the Light Takes Us Quotes
There are no approved quotes yet for this movie.