(Untitled)
(2009)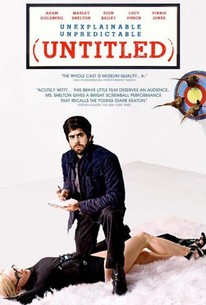 TOMATOMETER
AUDIENCE SCORE
Critic Consensus: This satire on the art world is at times both clever and shallow, but its top-notch cast generates plenty of goodwill.
Movie Info
The uncomfortable merger of art and commerce leads to an unstable romantic triangle in this satiric comedy from director Jonathan Parker. Madeleine (Marley Shelton) is a beautiful young woman who runs an upscale art gallery in New York City. While Madeleine prides herself on exhibiting the most daring and cutting-edge work on the East Coast, her dirty little secret is that she's able to keep the place open by selling the bland but accessible work of her boyfriend (Eion Bailey), whose paintings are quite popular with corporate clients. However, Madeleine is drawn to moody creative types, and her boyfriend makes the mistake of introducing her to his brother (Adam Goldberg), an avant-garde composer whose music is built around breaking glass and the clatter of metal objects. Before long, Madeleine has fallen for the pretentious composer and has to choose between him and the man who can keep her gallery in the black. Also starring Vinnie Jones and Zak Orth, (Untitled) received its world premiere at the 2009 Palm Springs International Film Festival. ~ Mark Deming, Rovi
News & Interviews for (Untitled)
Critic Reviews for (Untitled)
Audience Reviews for (Untitled)
As aggressively arty as its title, "(Untitled)" is ostensibly about a romance between an avant-garde musician (Adam Goldberg, sporting his usual neanderthal scowl) and a trendy gallery owner (delicious Marley Shelton), but the script has more provocative questions in mind about art itself. Does it require technical skill? Can it be created or collected for profit? What ingredients are off-limits? Can music have no tempo or key? Can everyday objects make music? Aesthetic issues like this rarely come up in a romantic comedy, and the far-out musical pieces (mostly conceived by composer David Lang) are alternately fun and exasperating to behold. The film takes an interesting turn as it goes, initially presenting experimental works as something arcane and impressive (too much for the common man -- hmpf!) but gradually becoming more critical to imply a hollow charade between artist and patron. Zak Orth adds some sharp scenes as a flaky, nouveau-riche collector who buys art to make himself feel important, and Vinnie Jones plays a British conceptual artist who may be a cruel parody of Damien Hirst. Ptolemy Slocum is quite funny as a listless "visionary" who sticks Post-It notes on walls and calls them conceptual art, while Eion Bailey (currently seen on TV's "Once Upon a Time") is Goldberg's deluded painter brother, churning out interchangeable product that reaps unholy riches as doctor's-office fodder. The script is rather heavy-handed in making its points, but the setting is unusual enough to be oddly refreshing.
Eric Broome
Super Reviewer
½
"How do you deal with such idiotic criticism?" (Untitled) is an absurd, entertaining mixture of a comedy, a romantic comedy, a drama, and a satire of the New York art scene (and some modern art in general, I suppose). It caught my eye because of the presence of Marley Shelton and Lucy Punch, two underrated and really hot actresses that I make a habit of checking out in every movie I can, but it turned out to be a worthwhile movie, beyond their presence. The two main characters are Adrian (Adam Goldberg), a bohemian experimental musician (think kicking buckets and ripping paper), and Madeline (Marley Shelton), a gallery owner who sells the commercial work of Adrian's brother to keep her gallery open, while only allowing more avant-garde pieces to be shown there. Madeline finds herself drawn to Adrian's unconventional sensibilities, but conflict eventually arises between the two when Madeline's eccentric clients don't meet Adrian's ideas of what art should be. (Untitled) is funniest when showcasing the "artwork" of its supporting characters, including Ray Park as an artist who uses taxidermy in a unique way, and Zak Orth in a small but absolutely scene-stealing role. I think you probably have to be familiar with, or at least aware of, the modern art scene to see the appeal of (Untitled). It's not a hard film to get your head around, or anything like that, but it does get its humor from situations and jokes that may not have appeal for everyone. I thought it was quite amusing, though, and I recommend that anyone who finds the idea interesting, gives it a try.
"(Untitled)" starts off as a predictable parody of contemporary art such as you'd see on an episode of "Seinfeld" or some other TV sitcom. An avant-garde musician repeatedly kicks a can and calls it art, for example. We've only seen this parody a million times. But through the course of the film, something surprising happens. Director and co-writer Jonathan Parker reveals himself actually to know about contemporary art. Imagine that: a film about art where the filmmaker actually knows something about art -- and not just about the biographies of artists. At last! In this sense, "(Untitled)" is a long-overdue, pioneering film. For this reason, I wanted so much to like it. Unfortunately though, Mr. Parker doesn't have much to say about art, artists, or gallery owners. Parker celebrates the avant-garde spirit of being ultra-conceptual and 100 years ahead of the ordinary bourgeoisie. He also pokes affectionate fun at certain excesses, such as the statuesque gallery owner whose clothes are such works of art that they make noise whenever she walks. Galleries are skewered to a degree for having a dishonest, almost predatory approach to artists. But that's pretty much the entire film. Not much more ultimately than you'd get in a "Seinfeld" episode -- and "Seinfeld" is more fun. Parker and co-writer Catherine DiNapoli know about art. But they don't know much about what makes for a compelling feature film.
William Dunmyer
Super Reviewer
(Untitled) Quotes
There are no approved quotes yet for this movie.