Client 9: The Rise and Fall of Eliot Spitzer
(2010)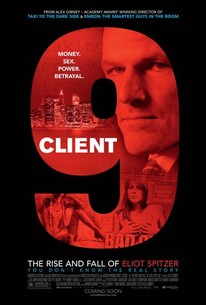 TOMATOMETER
AUDIENCE SCORE
Critic Consensus: Client 9: The Rise and Fall of Eliot Spitzer finds director Alex Gibney once again probing the dark corners of politics with thought-provoking insights and hard-hitting evidence.
Client 9: The Rise and Fall of Eliot Spitzer Photos
Movie Info
This documentary feature takes an in-depth look at the rapid rise and dramatic fall of New York Governor Eliot Spitzer. Nicknamed "The Sheriff of Wall Street," when he was NY's Attorney General, Eliot Spitzer prosecuted crimes by America's largest financial institutions and some of the most powerful executives in the country. After his election as Governor, with the largest margin in the state's history, many believed Spitzer was on his way to becoming the nation's first Jewish President. Then, shockingly, Spitzer's meteoric rise turned into a precipitous fall when the New York Times revealed that Spitzer - the paragon of rectitude - had been caught seeing prostitutes. As his powerful enemies gloated, his supporters questioned the timing of it all: as the Sheriff fell, so did the financial markets, in a cataclysm that threatened to unravel the global economy. With unique access to the escort world and well as friends, colleagues and enemies of the ex-Governor (many of whom have come forward for the first time) the film explores the hidden contours of this tale of hubris, sex, and power.-- (C) Magnolia
News & Interviews for Client 9: The Rise and Fall of Eliot Spitzer
Critic Reviews for Client 9: The Rise and Fall of Eliot Spitzer
Audience Reviews for Client 9: The Rise and Fall of Eliot Spitzer
For those of you who might have forgotten or do not live in New York, Eliot Spitzer was the governor of New York who was forced to resign after a year in office, due to a sex scandal. He came to prominence as the state attorney general, going after Wall Street's greedy and immoral practices, foreseeing Wall Street's 2008 collapse. Even with Spitzer on hand to answer questions, there is really not that much insight in the documentary "Client 9" as to why Spitzer did what he did, concerning his fall from grace, thus helping to destroy the great man theory of history. Said downfall began in March 2006 when he started paying escorts for sex which was also the same time his run for governor began, immediately followed by mentions in the media of a future Presidential run. Before getting ahead of ourselves, rewind to the fact that Spitzer made a great prosecutor where his 'my way or the highway' style worked wonders but did not work as well in the state house where he was a questionable governor at best, unwilling to work with others. And maybe he knew that going in, causing him to self-destruct before things got any farther so as not to disappoint his domineering father. In fact, you could say that Spitzer had a talent for making powerful enemies(including billionaire Paul Langone, AIG CEO Hank Greenberg and State Senate Senate President Joseph Bruno)but not friends, and it should have surprised nobody that they would go after him, eventually exposing him.(By contrast, there are tons of people in this country who would give half of their reproductive organs to get anything on Ralph Nader. The end result: nothing.) And he would probably not have had to resign if he had the backing of his party which he did not. That goes back to what Sydney Biddle Barrows wrote about escorts(of which too much time is spent on in the documentary) in that it is as much about the sex as it is about companionship, especially for somebody who is so lonely. For the record, I do believe David Paterson was mainly brought up on charges of corruption towards the end of his term of office due to his poor chances of winning election to a full term. This is one of only three conspiracy theories I actually believe in.
Alex Gibney, the Oscar-winning documentary filmmaker behind Enron and Taxi to the Dark Side, rolls out his third 2010 entry in what must have been a rather exhausting year for the man. The focus is on former New York attorney general and governor Eliot Spitzer and his fall from grace after being linked to a high-end prostitution ring. Gibney charts the man's rise and fall in a fairly straightforward and engaging manner, though you start to wonder if there's really enough material to fill out a two-hour feature. Spitzer speaks candidly and will not humbly vanish as some may wish; the man is an intriguing mixture of righteousness, ego, and humility. What's most fascinating about Client 9 (named after Spitzer's name in the FBI sting) is that Spitzer gained a wealth of enemies when he went after Wall Street largesse and greedy shenanigans, and they all want to be on camera. No one with a serious grudge against Spitzer, including men who have since been convicted of crimes and ethics violations, refuses an interview. Gibney draws together a fairly convincing thesis on the takedown of Spitzer, a cabal of powerful execs, politically motivated prosecutors in the Bush administration, and government officials who reject accountability. It's all circumstantial evidence, to be sure, but there's a mountain of it. There is a definite conservative-backed coordinated effort to sully and embarrass the man. But ultimately, Spitzer admits that he is responsible for his sins. You will never get full satisfying clarity as to why he sought out the comfort of prostitutes in the first place. I don't think even Spitzer knows for sure. But that's an age-old mystery that can't be tied up in two hours. Nate's Grade: B
Nate Zoebl
Super Reviewer
½
Alex Gibney's foray into the mind of Eliot Spitzer makes for an excellent and thought provoking film. Spitzer is candid in his interview and Gibney really captures all of the idiosyncrasies that this controversial figure has to offer. He is full of hubris, over-ambitious, and a force to be reckoned with. Yet, rather than just partake in an Diane Sawyer-esque interview, in which the subject is asked loaded questions in hopes to illicit some sort of emotional or knee jerk reaction, Gibney leaves the judgements to the tabloids. Instead, he asks why. Why was he the target of a federal case when federal cases usually go after the prostitution service rather than the patron? For what exact reasons was he singled out and whom would have wanted to see his political life disintegrate? Also, why did the public so eagerly latch onto this particular case and consequently make a star out of "Spitzer's Girl?" From Spitzer's time as attorney general to his stint as the governor of New York City, Gibney shows the upheaval that this self proclaimed "Sheriff of Wall Street" caused and the numerous enemies that he amassed along the way. While the narrative is pretty straight forward, Gibney brings to the surface some really poignant questions. How "evil" is a man who has made some personal mistakes, but is one of the only politicians attempting to bring some justice to the amorphous greed that runs rampant on Wall Street? The city plays an important role in the film as well as much of the dialogue is played over shots of the city. Gibney even frames the interviews of the financial giants with the hustle and bustle of the city seen in the background. These men appear to be ambassadors of a city whose ethos is excess. There is a lot to chew on in this film and it is simply one of the best documentaries I have seen in a long while.
Client 9: The Rise and Fall of Eliot Spitzer Quotes
There are no approved quotes yet for this movie.