Up
(2009)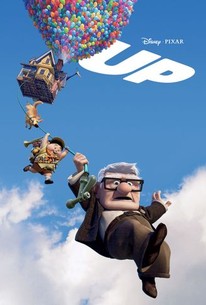 TOMATOMETER
AUDIENCE SCORE
Critic Consensus: An exciting, funny, and poignant adventure, Up offers an impeccably crafted story told with wit and arranged with depth, as well as yet another visual Pixar treat.
Movie Info
A feisty septuagenarian teams with a fearless wilderness ranger to do battle with a vicious band of beasts and villains in this computer-animated adventure scripted by Pixar veteran Bob Peterson and co-directed by Peterson and Monsters, Inc. director Peter Docter. Carl Fredricksen is a 78-year-old balloon salesman. His entire life, Carl has longed to wander the wilds of South America. Then, one day, the irascible senior citizen shocks his neighbors by tying thousands of balloons to his home and finally taking flight. But Carl isn't alone on his once-in-a-lifetime journey, because stowed away on his front porch is an excitable eight-year-old wilderness explorer named Russell. Later, as the house touches down on the world's second largest continent, Carl and his unlikely traveling companion step outside to discover that not only is their new front lawn considerably larger, but that the predators therein are much more ferocious than anything they ever faced back home.
Audience Reviews for Up
½
Pixar is one of the greatest animation companies of all time, and each of their films have redeeming features about them even if they aren't all that great, but to me, this is the weakest Pixar film. I liked it the first 3 times I saw it, but the more I watch it, the more things I find that annoy me. Now I have A.D.D. so I have trouble sitting through some movies sometimes, and this film is one of those movies that I get so bored with, and after 20 minutes I put in a different movie. The main gripe I have with the film is that the beginning 15 minutes and the ending are so well done, that the film just goes downhill from there when it ends, another gripe I have is with the dog Dug, now I know everyone who reads this is gonna be like "Oh Dug is cute, Dug is funny." NO!!! He is annoying and not funny at all, he's stupid, and useless in this film, literally there is almost no purpose to him in the plot, aside from being an unfunny comic relief.
Michael Edwards
Super Reviewer
½
Pixar never fails. Even if you are a stiff as a rock this movie will at least give you goosebumps along with a smile/chuckle. Kudos to whoever created the score.
Sanjay Rema
Super Reviewer
Absolutely wonderful animated feature, Pixar crafts a stunning, engrossing picture that is superbly animated and boasts a great cast of talented voice actors and a heartwarming story. I had heard plenty of great things about this film, and heard it was one of the sadder of Pixar's output. With that being said, the film is sad, but it so makes you feel good, and it's really one that makes you feel all sorts of things. I've seen many of Pixar's films, and each of them has that quality that makes it so good, with UP, we get something more, we get a film that goes deep in its story and adds a lot more depth into one film. One minute the tone is sad, heartfelt, the next, it's funny, whimsical and adventurous. But as a whole, Up is a standout picture, one of the finest of Pixar's animated features, and is highly entertaining from start to finish. If you want a great animated comedy, Up is a great film to watch and it's a film for all ages, one that has a simple, but well constructed story, and it is a film that just has plenty of charm to really make it standout, and it's easily one of the finest films that Pixar has ever produced. If you enjoy animated feature, Up will certainly deliver, and it's one of those movies that is purely entrancing from the first frame, and it doesn't let go until the wonderful final. Brilliantly animated, and with a great script Up is yet another solid animated feature from Pixar, who always deliver some truly wonderful, amusing and highly memorable pictures. Although there are some sad moments here and there, the film just makes you feel good, and as the film goes on, the story is richer, fuller and gets even more enjoyable. If you enjoy animated films, especially Pixar films, definitely don't pass up this great film. Up is one of the studios finest works, and that's saying something.
Up Quotes
| | |
| --- | --- |
| Dug: | Hey, I know a joke! A squirrel walks up to a tree and says, "I forgot to store acorns for the winter and now I am dead." Ha! It is funny because the squirrel gets dead! |
| | |
| --- | --- |
| Carl Fredricksen: | [woke up] |
| Russell: | Uh, I thought you were dead. |
| | |
| --- | --- |
| Russell: | Hey, that one looks like a turtle! Look at that one! That one looks like a dog! AAH!!! It is a dog! |
| Russell: | Hey, that one looks like a turtle! Look at that one! That one looks like a dog! Ahh! It is a dog! |