Up in Smoke
(1978)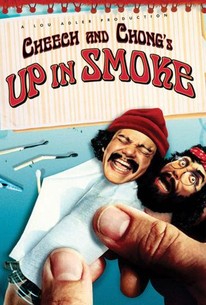 TOMATOMETER
AUDIENCE SCORE
Critic Consensus: Oft-quoted but undeniably flawed, Up In Smoke is a seminal piece of stoner cinema thanks to the likability of its two counterculture icons.
Movie Info
Then professional potheads Cheech Marin and Tommy Chong teamed up for Cheech & Chong: Up In Smoke, which features the drug-addled duo on a road trip throughout California; that is to say, a road-trip they hope will culminate in finding some quality weed. Instead, a series of mishaps result in their respective deportations to Mexico. Desperate to get back to the states so they can perform in their band's gig later that night, Cheech and Chong unwittingly agree to drive a very unique car across the border -- rather than steel and various metal bits, the vehicle is constructed entirely out of marijuana. Back in the States and accompanied by two extraordinarily out-of-it female hitchhikers, the stoned group meanders about in an attempt to get their musical performance together, and narrowly escapes from local law enforcement agencies on numerous occasions despite their complete inability to realize they were being tailed to begin with. The incredibly low-budget movie surprised critics, grossed millions, spawned a series of lesser follow-up films, and cemented Cheech & Chong's cult-status among potheads across the globe. ~ Tracie Cooper, Rovi
News & Interviews for Up in Smoke
Critic Reviews for Up in Smoke
Audience Reviews for Up in Smoke
Man Stoner: Mostly Maui Waui man, but it's got some Labrador in it.  "You'll be rolling in the aisles." Every stoner out there owes a little something to Cheech and Chong, and this movie, Up in Smoke. This was the first time we saw a true "stoner" film and it still holds up decades later. The genius in Cheech and Chong is that they are able to successfully take every myth, every dumb stereotype about marijuana and make them into hilarious jokes. The way they talk is the biggest joke of all. They are using what everyone really expects out of a so called "stoner", and use it for material. You gotta admit, it's pretty genius. Up in Smoke follows the two characters of Pedro(Cheech) and Man(Chong). The two meet when Chong is hitchhiking and Cheech pulls over because he thinks it's a woman. The two hit it off right from the start, smoking the biggest, thickest joint you're ever likely to see. When they get stranded in Mexico after being deported, they agree to drive a van across the border. They think they're smuggling in upholstery, but unknowingly to them, the whole van is constructed from marijuana. A dumb detective and his even dumber henchmen are right behind them the whole way. Up in Smoke has achieved a sort of cult following, but don't let that take away from how classic this film happens to be. I'm not ever going to argue that this is a masterpiece or an overly important film(exception is that it started the stoner comedy genre, but you would assume that would have came to being without this). What it is though is a fun and hilarious one. Obviously the jokes are mostly centered around marijuana, so it helps if marijuana humor is something you like. Everyone has their own opinion on the film. A lot of people love it, but a lot of people hate it also. There's a lot of reasons to hate it, if you want to look. It doesn't have much of a plot, it's stupid, it's basically a one joke comedy, and some would even go as far as to say that Cheech and Chong were doing a disservice to America's youth by glamorizing marijuana. So if you want to hate it, hate it. I however, after probably the tenth time I've seen it, still love it. Up in Smoke is one of those go to movies when I just smoked up, it's midnight, and I'm bored. 
Melvin White
Super Reviewer
This is the film that pretty much kicked off the stoner comedy genre as we know (and as some love) to this day .Cheech and Chong were already known, but this really sent their careers sky high. Since this is regarded as a cult classic, and the type of film where how you view it will affect your opinion of it, I do need to probably go ahead and admit that this film is overrated. I did have a few drinks in my system beforehand, and I kinda dig stoner humor even when I'm not altered, but even then, this film really pushes your buttons and tests your patience. It's all so random. I mean, the plot is basically two guys randomly meet (and instantly become best friends) then spend the rest of the film trying to get weed. Seriously. I mean, yeah, there's slightly more to it, such as trying to get a band's career to take off, but there's really not much to it. It is funny, but even when you're slightly altered, this is just overly silly and dumb, and I really wondered why this film is so highly regarded. Sure, I laughed a number of times, and was amused, but that's mostly because, as dumb as it sounds, I have a thing for ridiculous situations and silly faces. Cheech makes the best, by the way. I am tickled by the fact that Tom Skerritt is in this, but even then, I am all over the map with how I feel about this, I sorta recommend it, but even then, I'll admit that it really is kinda junky. C+ to B-.
Chris Weber
Super Reviewer
½
First twenty minutes are fun, it quickly goes down hill from there.
Ken Stachnik
Super Reviewer
Up in Smoke Quotes
| | |
| --- | --- |
| Man Stoner: | [after spitting out the judge's drink] Fuckin' vodka, man! |
| | |
| --- | --- |
| Man Stoner: | [Cheech starts toking on the giant joint] Toke, toke it up, man! [Cheech starts coughing] Kinda grabs ya' by the boo-boo, don't it? |
| | |
| --- | --- |
| Man Stoner: | [talking to Strawberry's bird] Wanna get high? Wanna get high? [the bird repeats his words] |
| | |
| --- | --- |
| Sgt. Stedenko: | [referring to Man Stoner] Some asshole pissed on my leg! |