Up in the Air
(2009)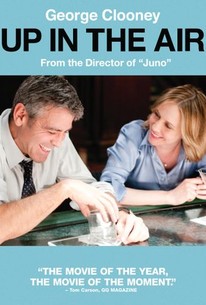 TOMATOMETER
AUDIENCE SCORE
Critic Consensus: Led by charismatic performances by its three leads, director Jason Reitman delivers a smart blend of humor and emotion with just enough edge for mainstream audiences.
Movie Info
Ryan Bingham, a corporate hatchet man who loves his life on the road, is forced to fight for his job when his company downsizes its travel budget. He is required to spend more time at home just as he is on the cusp of a goal he's worked toward for years: reaching ten million frequent flyer miles and just after he's met the frequent-traveler woman of his dreams.
Critic Reviews for Up in the Air
Audience Reviews for Up in the Air
½
George Clooney finds the perfect tone for his charismatic character in this delicious film that has a very witty dialogue, great editing, wonderful performances and a clever balance between humor and emotions - the kind of story that makes me wish it never ends.
Carlos Magalhães
Super Reviewer
Intimate, heartfelt, and heartbreaking, Up in the Air is a worthwhile experience that features great performances from Clooney, Fermiga, and Kendrick and a timely message that resonates. It may not be the most engaging film, however it is enjoyable and well-crafted.
Matthew Samuel Mirliani
Super Reviewer
Very good romantic dramedy, Up In The Air is a well acted film that surprised me. I really didn't expect to enjoy it the way I did, but this film exceeded my expectations. George Clooney is terrific opposite Anna Kendrick, who is always charming in her roles. Jason Reitman directs the film, and like others such as Thank you for Smoking, he brings a unique touch to his films that makes this an engaging, and highly rich film going experience. At times the film did slow down, and it had a few imperfections here and there, but the cast and story keep you entertained. Reitman delivers a great film here that delivers a terrific storyline. Like I said, the film exceeded my expectations, and I didn't expect to enjoy it the way I did. Up In The Air is a well crafted film that mixes comedic elements with drama to make for a fun film to watch. If you enjoy the genre, then this is a must watch. Clooney delivers another great performance here, and other cast members are great as well. I found that every actor that played their part brought something to really elevate the film a lot more. The idea behind the film is simple, yet Reitman and company are able to pull off something truly special. The result is a film that is very well acted, one that boasts a great story, and a surprising performance by actor Danny McBride, who normally is in straight forward comedic roles. The role he's in really is a great departure from his usual output, and he proves that he's able to act in more dramatic roles. Up In The Air is among Jason Reitman's finest efforts.
Up in the Air Quotes
| | |
| --- | --- |
| Ryan Bingham: | You know that moment when you look into somebody's eyes and you can feel them staring into your soul and the whole world goes quiet just for a second? |
| Natalie Keener: | Yes! |
| Ryan Bingham: | Right. Well, I don't. |
| | |
| --- | --- |
| Natalie Keener: | Hungry much? |
| Ryan Bingham: | Our business expense allots forty dollars each for dinner. I plan on grabbing as many miles as I can. |
| Natalie Keener: | Okay, you got to fill me in on the miles thing. What is that about? You're talking about, like, frequent flyer miles? |
| Ryan Bingham: | You really want to know? |
| Natalie Keener: | I'm dying to know. |
| Ryan Bingham: | I don't spend a nickel, if I can help it, unless it somehow profits my mileage account. |
| Natalie Keener: | So, what are you saving up for? Hawaii? South of France? |