Up the Sandbox
(1972)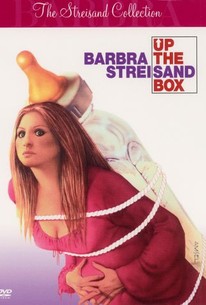 Movie Info
After learning that she has become pregnant with her third child, a woman agonizes over how to share the news with her neglectful husband in this drama. Her consideration of the problem leads her to indulge in a series of odd fantasies, which make up much of the film.
Critic Reviews for Up the Sandbox
All Critics (5) | Top Critics (1) | Fresh (3) | Rotten (2) | DVD (1)
[Streisand] does not give us a liberated woman, or even a woman working in some organized way toward liberation. Instead, she gives us a woman who feels free to be herself, no matter what anyone thinks.

Up the Sandbox is a lesser movie than most of the pictures Barbra Streisand has made. But it is a greater personal triumph.
Audience Reviews for Up the Sandbox
Odd almost stream of conciousness feminist drama, quite a 70's feeling. Barbra, who looks sensational, gives a serious unaffected performance and provides a strong center to this rather scattershot affair.
Up the Sandbox Quotes
There are no approved quotes yet for this movie.