Upstream Color
(2013)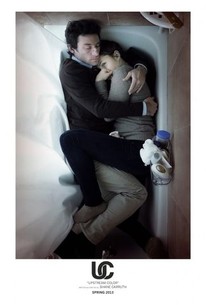 TOMATOMETER
AUDIENCE SCORE
Critic Consensus: As technically brilliant as it is narratively abstract, Upstream Color represents experimental American cinema at its finest -- and reaffirms Shane Carruth as a talent to watch.
Movie Info
A man and woman are drawn together, entangled in the life cycle of an ageless organism. (c) Official Facebook
Critic Reviews for Upstream Color
Audience Reviews for Upstream Color
½
A highly interesting psycho-thriller that challenges us to interpret its complex narrative and cryptic symbolism, even if the result is not exactly involving - and Carruth deserves a lot of credit for how he makes use of outstanding visual and auditory match cuts.
Carlos Magalhães
Super Reviewer
Thankfully, the absurdity of this creative piece is set up at the very beginning, and it stays within its rules. Upstream Color is very abstract, requiring more patience and thought from the viewer. The couple in the movie poster are actually shadows of the real story, and it begs the question of Carruth's message. Perhaps it is directed at our dependence on the earth and animals, or maybe it is a metaphor of mankind's waning desire for an omnipresent deity. Any viewer who watches it to the end owes it to themselves to spend some time ruminating on what they see - whatever that is - and hopefully enjoy discussing it with others.
Matthew Slaven
Super Reviewer
Shane Carruth's "Upstream Color," which opens at the Cedar Lee Theatre on Friday, is easily one of the best films of the year. It engages intellectually but is also deeply emotionally satisfying. As opposed to Carruth's excellent breakthrough film "Primer," "Upstream" eschews fractal complexity for a relentlessly linear narrative. The film follows Kris (Amy Seimetz), a woman whose life is thrown into disarray after she is drugged by a thief and forced to give him every asset she owns. Kris works a numbing name-tag job until she meets Jeff (Carruth), a financier for whom she feels an inexplicable attraction and undeniable connection. Using that connection Carruth explores themes of self-determination, free will and the inexorable cycle of life. It wouldn't be hyperbolic to say that the film stands completely outside the modern cinematic idiom. "Upstream Color" is striking in many ways, most prominently in how astoundingly precise it is. There isn't a single wasted frame in the film, and every shot is composed for maximum informational density. Our introduction to Kris and the particulars of her life and the way the thief methodically strips it of all monetary value is enthralling. There is no expository dialogue explaining how the thief's chemical hypnosis process works, but understanding is reached gradually through meticulously assembled imagery. The film demands careful attention and ardently resists passive consumption, but it isn't arduous to sit through. Its photography is so hauntingly beautiful and its sound design is so involving that watching the film is a sensory experience. Because the film has such lush nature photography and ethereal soundtrack, it occasionally evokes the work of Terrence Malick. But "Upstream Color" has none of Malick's aimlessness. It's a film explicated on very specific ideas and there is a sense of fine craftsmanship that Malick's films, especially his later ones, do not share. In many was it's closer to the cerebral and focused films of Steven Soderbergh, but that comparison also feels off, because the film is far more experiential than anything Soderbergh has made. It's not that the film doesn't have antecedents but whatever influences Carruth is drawing from are almost totally sublimated into his finished work. Carruth has said in interviews that the editing process of "Upstream Color" only took weeks, but it plays leaner and stronger than films that have been worked over for years. There is little dialogue in the film but what there is very well rendered. The thief's hypnotic instructions to Kris have the clarity and precision of a well-rehearsed albeit very strange speech, and the sequence where Kris and Jeff slowly realize their memories are no longer as singular as they once were feels as fraught and messy as everyday conversation. That mixture of unsettling and mundane permeates the whole film and the effect is beguiling. Like a practiced magician, Carruth carries the audience through each scenario masterfully. Many scenes in the film start off unsettlingly obscure before slowly revealing context. A man explains that his head is made of the same material as the sun. A woman is instinctively drawn to a farmer who blares his recording into the ground. A chemical within a decaying carcass bonds and turns a white orchid blue. All of these things are connected and all of these things make sense within the film's spiraling narrative though not immediately. It's that temporary gulf between presentation and understanding that separates and elevates "Upstream Color" from everything else in theaters.
Mario L McKellop
Super Reviewer
Upstream Color Quotes
| | |
| --- | --- |
| Wife: | I just want to tell you that I hope today is better, and that I love you. |
| | |
| --- | --- |
| Jeff: | I want to go where you go. |
| | |
| --- | --- |
| Thief: | I have to apologize. I was born with a disfigurement where my head is made of the same material as the sun. |