Urban Legends: Bloody Mary
(2005)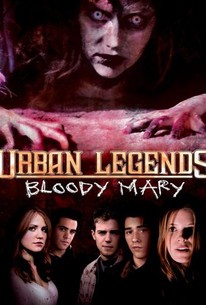 Urban Legends: Bloody Mary Photos
Movie Info
A homecoming-night dare turns into a runaway nightmare for a trio of high-school friends who unleash an evil spirit in this terrifying entry in the Urban Legends series from Pet Sematary director Mary Lambert. Everyone knows the legend of Bloody Mary, but when three high-school friends jokingly recite an ancient incantation for what they believe to be a harmless prank, a vengeful spirit is unleashed and their fate sealed. Later abducted by a group of intimidating high-school jocks, the trio is soon rescued, only to bear witness as their tormentors one by one fall prey to a deadly but unseen menace. Could it be their imagination or could the spirit of Bloody Mary truly have returned from the grave to seek vengeance for her death and make anyone who crosses her path suffer a horrible and agonizing death? ~ Jason Buchanan, Rovi
News & Interviews for Urban Legends: Bloody Mary
Critic Reviews for Urban Legends: Bloody Mary
Audience Reviews for Urban Legends: Bloody Mary
½
Poorly made and disconnected from the series proper, Urban Legends: Bloody Mary tries to be a supernatural thriller. When three teenage girls play a game of Bloody Mary they accidentally awaken the spirit of a 30-year-old murder victim, who then proceeds to seek revenge on the children of those responsible for her death. The script is awful, and neither the directing nor the acting does anything to improve it. Ultimately Urban Legends: Bloody Mary doesn't work and comes off as a desperate attempt to revive the series.
Dann Michalski
Super Reviewer
Dead Angel
Super Reviewer
This was a striaght to DVD release, a surprise considering how popular the first two were. A simple story with at times low budget effects but still enjoyable. It does go towards a more supernatural path from the first two. If you like the first two give this a whirl.
Urban Legends: Bloody Mary Quotes
There are no approved quotes yet for this movie.