Urban Legends: Final Cut
(2000)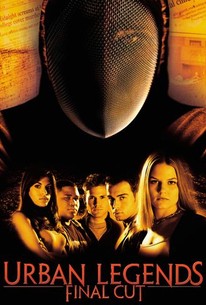 Urban Legends: Final Cut Photos
Movie Info
Tall tales turn into chilling reality in this sequel to the 1998 horror hit Urban Legend. Amy Mayfield (Jenny Morrison) is a film student at Alpine University who for her thesis project (which will also be her entry to a prestigious competition for young directors) has decided to make a horror film about urban legends that suddenly and disturbingly come true. However, as Amy and her student cast and crew begin filming staged murders for the project, members of her team begin dying for real, and the survivors have to track down the killer before they become the next victims. And where do Travis (Matthew Davis), Graham (Joey Lawrence), and Toby (Anson Mount), three other students vying for the same prize as Amy, fit into this scenario? Urban Legends: The Final Cut marked the directorial debut for John Ottman, who previously distinguished himself as an editor and composer (he also performed both of those functions for this film).
News & Interviews for Urban Legends: Final Cut
Critic Reviews for Urban Legends: Final Cut
Audience Reviews for Urban Legends: Final Cut
Sequel to Urban Legends is just as bad as the original. What is it with these films? These films are cool for the first two years they're released, and after that, people realize how bad these films were. In the case of Urban Legends: Final Cut, you have a film that is very poorly made, acted, directed with a paper thin story. The cast that are before the camera are terrible, and shouldn't be in acting in the first place. Those who actually have slight talent; I wonder why they would be in this piece of trash. The first Urban Legends sucked, and this sequel is just as bad as the original. This is another terrible attempt at creating a new, hip "horror" film for the brain dead MTV generation. But really, this is a stupid film that has no point. It's a good thing that teen horror films such as this, gave way to better, much scarier films like 28 Days Later. This film along with the first and a lot of others in the "teen" horror genre are easily forgettable because they don't offer anything memorable to the genre in the first place. Urban Legends is a horrid mess of a film that shouldn't have been made in the first place. Simply awful filmmaking.
Urban legends are like myths but they come true on a college movie set.
Candy Rose
Super Reviewer
A film centered around making films, written by people with no knowledge of film. This is incredibly bad stuff. It doesn't help that the screenwriter has obviously never encountered a living human being before. Otherwise they may have concocted a realistic or original character. Instead it's all the same shit, done at a low quality. The dialogue is painful to listen to, the kills aren't even interesting, and the constant mention of Hitchcock puts this film into some pathetic dream world. I'm not even sure how many Urban legends are actually followed in this film or if it just gave up on that premise. There's a literally pointless kill, that makes no sense and adds nothing to the film, as it was added in later to make sure a kill happened early in the film. It's trash, that just about gets by with a few laughs and an underused Eva Mendes.
Luke Baldock
Super Reviewer
Urban Legends: Final Cut Quotes
| | |
| --- | --- |
| Reese Wilson: | I know a good story. It's about a campus serial killer who murders eight people... |
| Amy Mayfield: | Yeah, I heard that one. It supposedly happened at Pendleton. It's just an urban legend. |
| | |
| --- | --- |
| Amy Mayfield: | Reese, I must have dropped the tape. Did you see it? |
| Reese Wilson: | I looked, but I didn't see no tape, just yo' crazy white ass down in the sewer! |
| | |
| --- | --- |
| Reese Wilson: | Urban legend, my ass. |
| | |
| --- | --- |
| Reese Wilson: | [after Amy shoots Professor Solomon] That's my sister, baby, and she's a whole lotta woman. |