Urbania
(2000)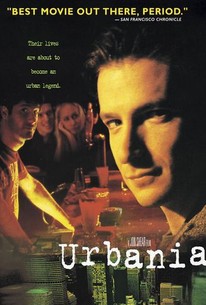 Movie Info
One of the most talked-about movies of the 2000 Sundance Film Festival, this film, directed by Jon Shear, recalls the edgy, aggressively-political qualities of early '90s queer cinema such as Poison (1991) and Swoon (1991) -- and throws in a few nods to Martin Scorsese's late-night New York City odyssey film After Hours (1985) for good luck. Dashing young yuppie Charlie (Dan Futterman) is losing control of his life after the loss of his longtime companion Chris (Matt Keeslar). Alone in his apartment, he can hear his upstairs neighbors (Bill Sage and Megan Dodds) engage in noisy lovemaking that leaves him lonely, frustrated, and aroused. He wanders the neon-drenched streets of Manhattan at night as if he were a wraith. Later, at a bar with the amorous couple, the trio get into a loud, ugly argument about public displays of affection. Around this same time, Charlie notices a mysterious, tattooed stranger, and the two exchange looks. Intrigued, Charlie sets out looking for the man, and in the process, he launches himself on a nightmarish journey through the underside of New York. He happens upon an increasingly odd array of people, each telling progressively more bizarre tales that are purportedly true. German actress Barbara Sukowa appears in a cameo in which she tells Charlie of a sexual tryst she had in a bar's restroom. Alan Cumming appears as a friend who has a crush on Charlie, while Lothaire Bluteau plays a stammering bum. Soon reality and fiction, straight and gay all fuse and blur in Charlie's increasingly troubled psyche.
Critic Reviews for Urbania
Audience Reviews for Urbania
½
Extremely twisty, well acted and shot movie that takes a similar plot device to "Urban Legend", only uses it to make a gritty drama about a lost love. Dan Futterman (who scripted Capote and had a guest role in Will & Grace) is a revelation.
Daniel Parsons
Super Reviewer
Urbania Quotes
There are no approved quotes yet for this movie.