Us
(2019)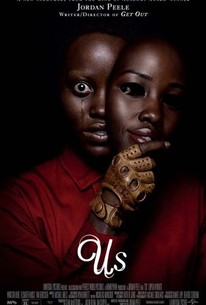 TOMATOMETER
AUDIENCE SCORE
Critic Consensus: With Jordan Peele's second inventive, ambitious horror film, we have seen how to beat the sophomore jinx, and it is Us.
Movie Info
Set in present day along the iconic Northern California coastline, Us, from Monkeypaw Productions, stars Oscar (R) winner Lupita Nyong'o as Adelaide Wilson, a woman returning to her beachside childhood home with her husband, Gabe (Black Panther's Winston Duke), and their two children (Shahadi Wright Joseph, Evan Alex) for an idyllic summer getaway. Haunted by an unexplainable and unresolved trauma from her past and compounded by a string of eerie coincidences, Adelaide feels her paranoia elevate to high-alert as she grows increasingly certain that something bad is going to befall her family. After spending a tense beach day with their friends, the Tylers (Emmy winner Elisabeth Moss, Tim Heidecker, Cali Sheldon, Noelle Sheldon), Adelaide and her family return to their vacation home. When darkness falls, the Wilsons discover the silhouette of four figures holding hands as they stand in the driveway. Us pits an endearing American family against a terrifying and uncanny opponent: doppelgängers of themselves.
Audience Reviews for Us
All I'm gonna say is that this movie gives new meaning to "running with scissors" ...
Tracy Kenderdine
Super Reviewer
½
I think it's important to state that Us is not Get Out and that's perfectly okay. Not every movie can be a Get Out, an experience that was so refreshing, socially relevant, wickedly fun and dynamic that I immediately wanted to see it again and tell everyone I know to join in. Writer/director Jordan Peele shed his funnyman past and flexed his impressive genre know-how to make a knockout of a movie with an amazingly structured story, allowing all of the pieces to snap together with clever precision. It was my own second favorite film of 2017 and I was highly looking forward to Peele's follow-up in the realm of what goes bump in the night. Don't go into Us expecting Get Out. It's not quite the sum of its parts and has some storytelling shortcomings that limit the impact of its visceral thrills. It's an engaging horror movie, but it's far more allegorical and far less tidy and satisfying. Us is more a straight horror film and has plenty of excellent, terrifying, and smartly directed scenes to make an audience squirm in their seat. Peele has established in two movies a strong instinct for horror and how to expertly stage a scene. His camera is judicious in what it does and does not show the audience, holding onto moments to escalate tension and providing no escape for an eager audience. The majority of the second act is a home invasion thriller and these scenes and subsequent chases and escapes can be nerve-wracking. Each character has their own opponent and each has their own method of trying to outsmart or out maneuver their downtrodden doppelganger. I was getting plenty of Funny Games vibes, a movie I downright despise, but what it could have been if the creator actually cared about the inhabitants. The family and their bonding is a strong empathetic anchor for the audience, so we watch each member of the family battle a literal incarnation of their inner demons. Peele also assembles an effective collection of spooky imagery, from caged rabbits, to the slice of golden scissors, to a carnival funhouse, to even the nature of that 80s social event, Hands Across America. You can sense Peele's love of horror and the entertainment value horror movies afford. There's a strong central mystery to guide the narrative and the sense of discovery from Act Two onward keeps things fresh as we learn more and more about these doubles. From a technical craft standpoint, Us has the upper hand over Get Out. This is a movie that wants to scare you and Peele has devoted great consideration into his artistic elements to achieve that key principle. Peele knows exactly how to craft a particular mood and what genre elements to pepper in and to what amount for the right response. The photography by Mike Gioulakis (It Follows) is evocative and makes great use of limited light to capture an eerie and unsettling feeling. The musical score by Michael Abels is also exceptional, making the most of each heightened scene and doing wonders with a dark, operatic version of the chill 90s song "I Got 5 On It" by Luniz. It makes for a fun, frightening, and favorable film experience in the moment-to-moment sequences of build and release. The performances are another strength, with each member of the family getting extra range thanks to their dual roles. Nyong'o (Black Panther, 12 Years a Slave) is the standout and emotional center of the movie. Her double is the leader of her clan and the only one that has the ability to speak, except speaking isn't quite the right word. It's more like the words escape her throat, raspy and without intonation. It's a remarkable commitment on her part and she tries a lot of weird character tics, most of them work, from her herky-jerky to robotically possessed physical movements, unblinking eyes, and then there's that startling voice. Duke (Black Panther) finds his footing as a comedic foil, starting as a corny but loving dad and thrust into a family defender that gets more and more tired of the horror movie nonsense he endures. The kids all do solid, effective work with what they're given, seizing their moments. Elizabeth Moss (The Handmaid's Tale) plays a bourgeoisie friend and has a fantastic moment with lip gloss that made me horrified and entranced all at once. Nate's Grade: B
Nate Zoebl
Super Reviewer
Perhaps my tethered was somewhere above me watching a good movie while I was stuck below watching this surprisingly disappointing film? With thickly veiled parallels and odd references, Peele seems to have gotten caught up with the symbols and underlying tones that he forgot to write a good movie. This film doesn't work particularly well as a horror, with just a few creepy bits, or as a psychological thriller, with its flimsy plot and many unanswered questions. The positives are the score, decent performances, and the handful of chuckles, but that is it.
Sanjay Rema
Super Reviewer
Us Quotes
There are no approved quotes yet for this movie.