U.S. Marshals
(1997)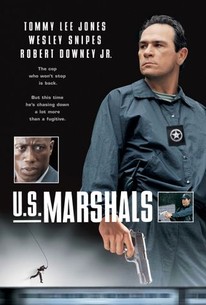 TOMATOMETER
AUDIENCE SCORE
Critic Consensus: A rote albeit well-cast action thriller, U.S. Marshals suffers badly in comparison to the beloved blockbuster that preceded it.
Movie Info
Tommy Lee Jones returns as United States Marshall Sam Gerard, the role that earned him an Academy Award, in this sequel to the 1993 blockbuster The Fugitive. Gerard has been assigned to escort a federal prisoner to a maximum security prison in Missouri. On the same flight is Mark Sheridan (Wesley Snipes), who has been arrested and charged with the murders of two Federal agents, though he insists he's innocent. The plane is involved in an accident leading to a crash, and after helping to rescue some of the passengers, Sheridan escapes. The State Department informs Gerard that finding Sheridan and putting him back behind bars is a top priority, and Gerard sets out on his trail, with the very much uncalled-for assistance of eccentric FBI agent John Royce (Robert Downey Jr.). However, Gerard soon begins to wonder just how Sheridan became such an important man in the eyes of the government, while Sheridan is determined to find out who turned him in to the authorities. U.S. Marshals also features Joe Pantoliano, Daniel Roebuck, and Kate Nelligan. ~ Mark Deming, Rovi
News & Interviews for U.S. Marshals
Critic Reviews for U.S. Marshals
Audience Reviews for U.S. Marshals
I've never seen the Fugitive so I really can't compare. For what it is, U.S Marshals is an average popcorn action thriller with a decent cast of actors. The plot is good enough to keep you interested and there's enough action to please the diehard action fan. There's a few things that are imperfect with the film, but for what it is, it's a good action film. Like I mentioned, I've never seen the Fugitive, but I really did like this film. This is a decent action film to watch. Tommy Lee Jones give a great performance, and this is one of the few films that Wesley Snipes has made that is quite good. U.S Marshals though watching it now looks dated. But it still somehow holds up. I've seen better films of this caliber, but for what it's worth, U.S Marshals is a well made popcorn film for an audience that wants mindless, thrilling entertainment. The film has it's downsides, but it still manages to be a good enough action film to please action buffs. I've seen better films with Tommy Lee Jones, and he does deliver here, but it's on of his weaker performances. U.S Marshals is a watchable film, but it's not the best in the action genre. Luckily what keeps the film afloat is the impressive names attached to the film.
½
Tommy Lee Jones is the only reason to see this sequel to The Fugitive, and the strength of his character is probably the only reason it was made.
Roy Gutteridge
Super Reviewer
Nowhere near the level of the first, but really fun and a good movie on its own. Instead of following John Kimble and making a ridiculous and unprecedented sequel, it went with Tommy Lee Jones and his team. That move works all to well and has a great addition with Robert Downey Jr. However, what really sells the sequel is Wesley Snipes, who plays such a different character than Harrison Ford. He knows how to pound people in, but also be the good guy.
Conner Rainwater
Super Reviewer
U.S. Marshals Quotes
There are no approved quotes yet for this movie.