The Usual Suspects
(1995)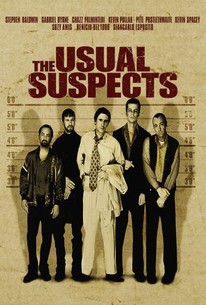 TOMATOMETER
AUDIENCE SCORE
Critic Consensus: Expertly shot and edited, The Usual Suspects gives the audience a simple plot and then piles on layers of deceit, twists, and violence before pulling out the rug from underneath.
The Usual Suspects Photos
Movie Info
Near the end of The Usual Suspects, Kevin Spacey, in his Oscar-winning performance as crippled con man Roger "Verbal" Kint, says, "The greatest trick the Devil ever pulled was convincing the world he didn't exist." This may be the key line in this story; the farther along the movie goes, the more one realizes that not everything is quite what it seems, and what began as a conventional whodunit turns into something quite different. A massive explosion rips through a ship in a San Pedro, CA, harbor, leaving 27 men dead, the lone survivor horribly burned, and 91 million dollars' worth of cocaine, believed to be on board, mysteriously missing. Police detective Dave Kujan (Chazz Palminteri) soon brings in the only witness and key suspect, "Verbal" Kint. Kint's nickname stems from his inability to keep his mouth shut, and he recounts the events that led to the disaster. Five days earlier, a truckload of gun parts was hijacked in Queens, NY, and five men were brought in as suspects: Kint, hot-headed hipster thief McManus (Stephen Baldwin), ill-tempered thug Hockney (Kevin Pollak), flashy wise guy Fenster (Benicio Del Toro), and Keaton (Gabriel Byrne), a cop gone bad now trying to go straight in the restaurant business. While in stir, someone suggests that they should pull a job together, and Kint hatches a plan for a simple and lucrative jewel heist. Despite Keaton's misgivings, the five men pull off the robbery without a hitch and fly to Los Angeles to fence the loot. Their customer asks if they'd be interested in pulling a quick job while out West; the men agree, but the robbery goes horribly wrong and they soon find themselves visited by Kobayashi (Pete Postlethwaite), who represents a criminal mastermind named Keyser Soze. Soze's violent reputation is so infamous that he's said to have responded to a threat to murder his family by killing them himself, just to prove that he feared no one. When Kobayashi passes along a heist proposed by Soze that sounds like suicide, the men feel that they have little choice but to agree. ~ Mark Deming, Rovi
Critic Reviews for The Usual Suspects
Audience Reviews for The Usual Suspects
½
A film that needs to be viewed multiple times in order to fully appreciate, The Usual Suspects is unassumingly intelligent.
Matthew Samuel Mirliani
Super Reviewer
A clever scripted executed with a brilliant cast (including the cunning Kevin Spacey). The Usual Suspects keeps you guessing and on the thrilling edge with its layer-filled plot, direction and its deceitful twist that's still praised as one of the more surprising ones to this day. 4/5
Eugene Bernabe
Super Reviewer
½
A group of hardened career criminals find themselves in the same police line up and decide to use the opportunity to pull a lucrative heist, little knowing that their strings are being pulled by a notoriously ruthless underworld figure. Bryan Singer's debut was a beautifully crafted crime thriller taking a lot of cues from the classics of Film Noir such as the Killing and The Asphalt Jungle using an excellent ensemble cast and ingenious plotting to keep you guessing as the plot twists and turns like a writhing serpent trying to wriggle free your grasp. It's one of those films you wish you could see for the first time again and again but although it clearly suffers if you know the cunning twist in the tale, The Usual Suspects still has much to offer during repeat viewings. It may lack the weightier characterisation of the likes of Heat or L.A. Confidential, but it's still easily one of the best crime stories of recent years and I implore anyone who hasn't had the ending spoiled for them yet to watch it ASAP while you still can!
The Usual Suspects Quotes
| | |
| --- | --- |
| Roger "Verbal" Kint: | Are you trying to get a rise out of me, Agent Kujan? |
| | |
| --- | --- |
| Dave Kujan: | You're in the getting-fucked-by-us business. |
| | |
| --- | --- |
| Dean Keaton: | Do your friend a favor. Tell him to keep quiet. |
| | |
| --- | --- |
| Roger "Verbal" Kint: | "The greatest trick the Devil ever pulled was convincing the world he didn't exist." |
| Roger "Verbal" Kint: | The greatest trick the Devil ever pulled was convincing the world he didn't exist. |