Valentine
(2001)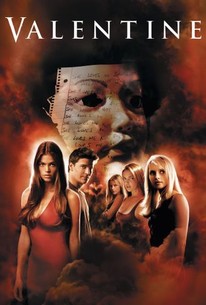 TOMATOMETER
AUDIENCE SCORE
Critic Consensus: Valentine is basically a formulaic throwback to conventional pre-Scream slasher flicks. Critics say it doesn't offer enough suspense or scares to justify its addition to the genre.
Movie Info
The novel of the same name by author Tom Savage becomes this horror film starring Marley Shelton as Kate Davies. Kate's in a troubled relationship with journalist Adam Carr (David Boreanaz), a problem drinker, but she receives support from her best friends, the same four girls she's known since grade school: Paige Prescott (Denise Richards), Dorothy Wheeler (Jessica Capshaw), Lily Voight (Jessica Cauffel), and Shelly Fisher (Katherine Heigl). When Shelly is murdered and the other girls begin receiving gruesome Valentine's Day cards signed "JM," they begin to speculate that the killer could be an awkward schoolmate named Jeremy Melton, whom they once teased mercilessly at a school dance, leading to his beating and humiliation. Dorothy in particular is afraid that a false accusation she made against Jeremy might be causing him to seek bloody retribution, but the macho detective (Fulvio Cecere) assigned to investigate Shelly's murder has some other suspects in mind. As the body count is racked up and Dorothy's lavish Valentine's Day party approaches, Kate begins to suspect that the true identity of Jeremy, who likely underwent plastic surgery to alter his appearance, could hit very close to home. Valentine is the second slasher flick from Urban Legend (1998) director Jamie Blanks.
News & Interviews for Valentine
Critic Reviews for Valentine
Audience Reviews for Valentine
9% of critics liked this movie? That's sad and an awfully high number I think. The people who actually did like this pathetic waste of time are either Angel fans or anyone who still thinks Denise Richards is hot. Don't bother watching this shit. Go to the park, shake up bottles of soda and throw them at the ground cap-first to watch them fly into the air. That is a much better way to spend your time.
Derek Daniels
Super Reviewer
½
Valentine is one of the better films in the teen horror genres, yeah I know. Even though the film is a better take on a tired genre in horror, it doesn't necessarily mean thats its a good film, far from it. The actors are terrible, and the script is lacking in effective scares, but what it does have is plenty of horrific death scenes, which I thought were pretty original. Valentine is a teen version of a slasher film during a holiday, unfortunately, Valentine's Day has already been covered in the horror, by a film called My Bloody Valentine. A different take on a holiday that has already been done in the past, but unfortunately Valentine lacks the memorable themes presented in My Bloody Valentine, which will always remain a classic and the superior slasher flick set during Valentine's Day.
Pathetically awful in every way. As a slasher, it is devoid of any gruesome, original or uncomfortable death scenes. They are just so plain and ordinary. The kills are also few and far between and some of them are thrown in for no reason. The identity of the killer is so obvious they may as well have told you at the beginning. The main characters are also portrayed as the same bitchy girls they were at school, making them less sympathetic than the killer. It's too concerned with trying to trick you, but failing to realise that it's audience aren't as clueless as the makers would like to believe. This has nothing for fans of the genre or fans of cinema. Making it instantly disposable.
Luke Baldock
Super Reviewer
Valentine Quotes
There are no approved quotes yet for this movie.