Valkyrie
(2008)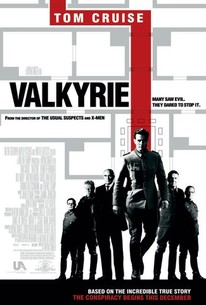 TOMATOMETER
AUDIENCE SCORE
Critic Consensus: Given the subject matter, Valkyrie could have been an outstanding historical thriller, but settles for being a mildly entertaining, but disposable yarn.
Movie Info
A proud military man, Colonel Claus von Stauffenberg is a loyal officer who serves his country all the while hoping that someone will find a way to stop Hitler before Europe and Germany are destroyed. Realizing that time is running out, he decides that he must take action himself and joins the German resistance. Armed with a cunning strategy to use Hitler's own emergency plan--known as Operation Valkyrie--these men plot to assassinate the dictator and over-throw his Nazi government from the inside. With everything in place, with the future of the world, the fate of millions and the lives of his wife and children hanging in the balance, Stauffenberg is thrust from being one of many who oppose Hitler to the one who must kill Hitler himself.
Critic Reviews for Valkyrie
Audience Reviews for Valkyrie
½
Anyone who has seen The Desert Fox will be familiar with this story, but instead of concentrating on Rommel, it examines the role of Claus Von Stauffenberg in the plot to assassinate Hitler after many of his officers began to question not only his tactics but his sanity. The theme of the two films is actually very similar; to show that not all of the German military or its people were Nazis, and there were some who were willing to sacrifice their lives to try and stop him. For me the most interesting part of the film takes place after the bombing when a plan is implemented to take over Berlin and I had no idea how far it went into effect and how close it came to succeeding; I can't help but wonder how different the world would be now if Olbricht had shown a bit more backbone or the meeting hadn't been moved to an outside location. From a technical point of view, it's unsurprisingly very solid, with classy direction from Bryan Singer and quality performances all round, although as usual it is very difficult to divorce tiny Tom from his screen persona. In all it's a very interesting history lesson that inevitably suffers from the fact that we all know how the story is going to play out and suffers in comparison to the gut wrenching intensity of Downfall. A good, solid war film nonetheless.
Historical drama. A number of inside attempts were made by Germans to assassinate Hitler. This movie tells the story of one of those plots. Tom Cruise leads a group of men to assassinate Hitler. Even though you know that Hitler committed suicide in real life, the movie makes you wish the outcome was different. Good story and cast. Only problem - everyone uses their own accents.
Candy Rose
Super Reviewer
They conquered all Europe, the Nazis, so how could they fail assassinating the one madman behind it all, I've often wondered. Singer manages to put a human face on the proceedings, a true explanation, though more actual German inclusion would've been welcome in this retort to the countless "they're all evil" films out there. Tense and gripping, the work only suffers in that the subject is perhaps larger than a mere film can contain. Nonetheless a very good work.
Kevin M. Williams
Super Reviewer
Valkyrie Quotes
| | |
| --- | --- |
| Erwin von Witzleben: | You may hand us over to the executioner, but in three months time, the disgusted and harried people will bring you to book and drag you alive through the dirt in the streets. |
| | |
| --- | --- |
| Gen. Friedrich Olbricht: | We've been discovered |
| Gen. Friedrich Olbricht: | We've been discovered. |
| | |
| --- | --- |
| Gen. Friedrich Fromm: | Do you realise what you've done?! The Fuhrer is alive! |
| | |
| --- | --- |
| Col. Heinz Brandt: | Well you've come a long way, you must be.. thirsty? |