The Vampire Bat (Blood Sucker) (Forced to Sin)
(1933)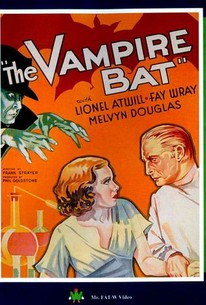 The Vampire Bat (Blood Sucker) (Forced to Sin) Photos
Movie Info
Bloodsucking winged creatures who may take human shape appear to have returned after centuries of dormancy to the middle-European municipality of Kleinschloss in this atmospheric, low-budget thriller from small-scale Majestic Pictures, and the burgomaster (Lionel Belmore) demands answers. With victims scattered everywhere, all bearing the distinctive puncture marks, police detective Karl Brettschneider (Melvyn Douglas) finds himself completely stymied. Brettschneider, who refuses to accept what he considers mere superstition, is not pleased when that eminent physician Dr. Otto Von Niemann (Lionel Atwill) hints that there may indeed be such things as murderous human bats. Herman Gleib (Dwight Frye), the village idiot, meanwhile, just happens to have a fondness for the nocturnal creatures -- "They're so soft!" -- and the villagers, as they are wont to do, grab their torches and commence a manhunt. Poor Herman is destroyed, but there is another killing. And this time the victim is Georgiana (Stella Adams), Dr. Von Niemann's housekeeper, who failed to serve the physician his late-night coffee. ~ Hans J. Wollstein, Rovi
Critic Reviews for The Vampire Bat (Blood Sucker) (Forced to Sin)
All Critics (5) | Fresh (3) | Rotten (2)
The movie is no timeless classic, but it's definitely a unique one-off.
Great cast and borrowed sets (from Universal) distinguish this poverty row thriller.
December 29, 2002 | Rating: 4/5
Audience Reviews for The Vampire Bat (Blood Sucker) (Forced to Sin)
½
An extremely silly film, but with an interesting plot. It's always nice to see Fay Wray on the screen. Melvyn Douglas does some nice work, as does Lionel Atwill, but it's a very poor package that they're wrapped up in that has only the slightest promise.
Tim Salmons
Super Reviewer
Quickie poverty row Dracula knockoff about a plague of vampiric activity in a German village: is it a real vampire, bloodsucking bats, or a human killer posing as a nosferatu? The flick features a good cast (Lionel Atwill, Fay Wray, Melvyn Douglas, and Dwight Frye) and it starts with strong Gothic atmosphere, but fizzles out as the plot is revealed.
½
This movie is kind of silly, and I hated the ending.
The Vampire Bat (Blood Sucker) (Forced to Sin) Quotes
There are no approved quotes yet for this movie.