Vampire Effect (Chin gei bin) (The Twins Effect)
(2003)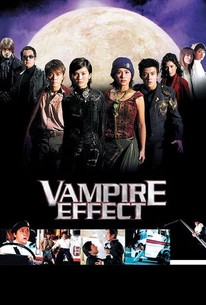 AUDIENCE SCORE
Critic Consensus: No consensus yet.
Vampire Effect (Chin gei bin) (The Twins Effect) Photos
Movie Info
A powerful, age-old bloodsucker attempts to gather the blood essence that will enable him to walk in daylight -- and the only thing standing between his success and the forthcoming age of darkness is a trio of skilled vampire slayers in director Dante Lam's The Twins Effect. Top agent Reeve (Ekin Cheng) works for a secret organization dedicated to ridding the world of the fanged menace, and though his razor-sharp fighting skills -- not to mention and the occasional dose of vampire blood -- give him an edge over your typical vampire slayer, his new partner, Gypsy (Gillian Chung), also possesses formidable skills. When Reeve learns that his younger sister Helen (Charlene Choi) is romantically linked with a sensitive, new-age vampire prince, Kazaf (Edison Chen), who possesses the final piece of the puzzle needed for the dreaded Duke Dekotes (Mickey Hardt) to overpower humankind and rule the Earth, Reeve, Gypsy, and a reluctant Helen soon jump into action. Combine their skills with that of a quick-kicking paramedic (Jackie Chan), and the human race just may stand a chance for survival after all.
Critic Reviews for Vampire Effect (Chin gei bin) (The Twins Effect)
All Critics (2) | Fresh (0) | Rotten (2) | DVD (5)
The martial arts action is frequently fun to watch...but these good bits and pieces are stitched together by means of a screenplay that is unusually incoherent, even by the diminished standards of dumb action movies.
Audience Reviews for Vampire Effect (Chin gei bin) (The Twins Effect)
Can't say much about the story here; doesn't make a whole lot of sense. But this is, well, charming. Yes, it's a charming vampire movie, and Jackie Chan adds just the right kind of humor to the whole project. He, too, is his usual charming self.
Lanning : )
Super Reviewer
½
A pair of vampire hunters team up with vampire prince to thwart the plans of an evil Euro-vamp bent on unlocking the secret of vampire immortality in this hybrid of Asian style chop socky mayhem and western vampire mythology. The problem with a lot of vampire films is that they tend to take themselves far too seriously. This film does involve a lot of humour but the balance isn't quite right. The action scenes are quite well done with some nice stunt work and decent effects, but again they're a little too po-faced, whereas all the scenes in between are so broadly played they come across like a romantic sitcom. The best scenes are the ones involving a nice cameo by Jackie Chan who brings his usual blend of comedy and action in equal measure. But the fact is, the combination of broad slapstick, flashy action and MTV style direction that made it seem a little too crude and juvenile for my tastes are the very reasons why i think kids will get a real kick out of it.
½
Cool occult vampire movie squezzed into a special effects extraordinaire
Alexander Wilson
Super Reviewer
Vampire Effect (Chin gei bin) (The Twins Effect) Quotes
There are no approved quotes yet for this movie.