Vampire in Brooklyn
(1995)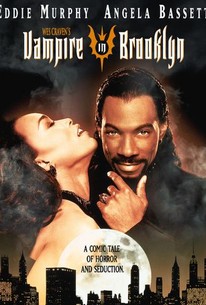 Vampire in Brooklyn Photos
Movie Info
Comedian Eddie Murphy tried something different with this 1995 film that he produced and co-wrote, enlisting veteran horror director Wes Craven to give the story some chills. The uneven comedy-horror tale features Murphy as a vampire named Maximillian who arrives in Brooklyn on a ship full of people who have been brutally murdered. One of the corpses on board closely resembles that of Rita (Angela Bassett), one of the detectives assigned to the case. Maximillian targets Rita, hoping to get a dance with her that will bring her under his control. He enlists the help of a worker named Julius (Kadeem Hardison), biting his neck and turning him into a slowly decaying ghoul. Also seeking to romance Rita, though in a less sinister way, is her longtime detective partner Justice (Allen Payne). Maximillian uses his supernatural powers to interfere with the budding romance. Murphy also plays a preacher and an Italian gangster in this bizarre film.
News & Interviews for Vampire in Brooklyn
Critic Reviews for Vampire in Brooklyn
Audience Reviews for Vampire in Brooklyn
Wes Craven has made a career out of directing some of the finest horror films in the genre. However in 1995 he teamed up with Eddie Murphy, who by this time was on the road to mediocrity and they made this comedy horror flick. I love vampire films, and there are some of the best films in horror. They're classic horror monsters and they are sexy, cold blooded killers. This film unfortunately fails to be any good and it fails to be a good addition to the vampire genre. The script is lazy and the performances are shallow with nothing that really stands out. The film's comedic elements are poorly thought out, and the jokes fall flat and the film ends up being a tiring affair. The film is a mediocre affair that simply ends up being a waste of time. The film could have been great and it's a shame due to the fact there were some good ideas here, but they simply don't get off the ground. This is one of the weaker Craven films, and it simply doesn't entertain the way it's supposed to. The ideas are there, but the execution is poor, and the film misses the mark. Fright Night was a great vampire horror comedy, and it hit all the right note. However this one simply didn't deliver and it shows the early signs of Eddie Murphy's dwindleling talent and success. Don't expect a great film with Vampire in Brooklyn as you will be disappointed and you'll want something more out of a film that provides you with so little. Stick with The Lost Boys and Fright Night and skip this mediocre movie that should have been reworked a few times in the screenwriting phase.
½
Another film I haven't seen since release at the cinema, I enjoyed it upon first viewing back then but nowadays I'm not so sure. This film was pretty much Murphy's last flick before he began his lame kiddie flick career and gave up on adult action/humour which he has never seemed to recover from. Director by Horror legend Wes Craven you would think this might have a chance at being good but unfortunately because Murphy tries to go down the 'Coming to America' route it fails. There's no way Murphy can recapture the golden days of 'Coming to America' and he tries way too hard in this, its not a terrible vampire film but its not exactly funny either which it tries to be too much. Some nice makeup on Murphy, Hardison and Bassett can't really save the film with its obvious sets, poor casting and indecision as to wether it wants to be more amusing or more serious. I think its safe to say both Wes and Eddie tried for an 'American in Werewolf' approach but missed the mark by quite some distance but it still has one or two nice moments.
Phil Hubbs
Super Reviewer
Tim Salmons
Super Reviewer
Vampire in Brooklyn Quotes
There are no approved quotes yet for this movie.