Vampirella
(1996)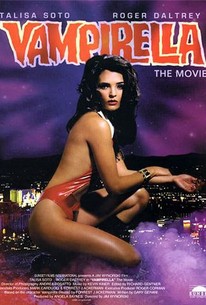 AUDIENCE SCORE
Critic Consensus: No consensus yet.
Movie Info
The beautiful vampire from space who starred in her own successful comic book series comes to the screen in this adaptation produced in part by Roger Corman and Forrest J. Ackerman. The planet Drakulon is populate by a race of vampires who are able to feed on the rivers of blood that flow naturally from Drakulon's oceans. But Vlad (Roger Daltrey) is an especially vicious blood-drinker who prefers to attack and kill others in order to satisfy his appetites. Vlad's appetite for violence leads him to kill the High Elder of Drakulon (Angus Scrimm), and Vlad, realizing he may have gone to far, flees to Earth to avoid capture by the authorities. The High Elder's daughter, sultry Vampirella (Talisa Soto), travels to Earth to capture Vlad and bring him back to Drakulon to face justice. On Earth, Vlad has become well-known rock singer Johnny Blood while slaking his thirst with a growing number of unfortunate victims in his spare time. Vampirella finds tracking him down harder than she expected and she soon enlists the help of modern-day vampire hunter Adam Van Helsing (Richard Joseph Paul).
Critic Reviews for Vampirella
All Critics (3) | Fresh (0) | Rotten (3) | DVD (1)
At least Soto looks the part, though her sexy physique doesn't aid her lifeless deliveries or toothy expressions.
Is never sure if it's campy horror schlock, exploitative vampire softcore, or a stern horror epic.
Audience Reviews for Vampirella
Absolutely terrible film that is a B-movie in every sense, possibly lower. Everything in this film is hilariously bad, the acting (if you can call it that) is virtually pantomime. Soto as Vampirella doesn't even look the part clad in her watered down costume that clearly was made not to be as raunchy as the comicbook and doesn't even fit right! Daltrey hams it up perfectly but the problem is you can tell he is actually trying! The ham is high but its merely bad performances from people who clearly act in fluff on a regular basis, hell its so lame even the actors can't talk properly with their vamp fangs in hehe. Effects you say? what effects, there are no real effects here in any sense, what there is is so poor I won't even bother to comment. Not even the makeup looks good. In fact its fair to say that a lot of the film looks like its been made by fanboys on a very limited budget (in which case it would be OK), or you could say it looks like some kids halloween home movie. Watching Daltrey run around with his Walmart cape on, flapping it around with his god awful eye shadow and lipstick is quite a treat really. This really is bottom of the barrel stuff, not too far off a modern 'Ed Wood' feature really. Watch for laughs only and keep an eye out for a surprise cameo by John Landis for some reason, why John why??.
Phil Hubbs
Super Reviewer
D-readful comic book adaptation. Vampirella is sadly very much a movie of its time, cementing the silly vampire movies of the 90s, all shlock and nonsense with plenty of wizz-bang. With the exception that this is so low-budget, there's not even much wizz-bang. The only 'name' actor is Talisa Soto, best known for the Mortal Kombat movies, which is warning enough. Not only is her performance hammy as all-get-out, but she has to wear a comically skimpy red outfit for the duration, which looks like it was grabbed from a fetish shop for small change. The rest of the acting's crap, too, but the sets and special effects are the real stars of the show; the 'outer space' scenes were apparently shot in a shopping mall! There's more than one silly chase sequence in which to 'enjoy' the locales to boot. Respect must be given to its influence (van Helsing line ~ Dracula 2000; sun-gun ~ Underworld), and in the third act Vampirella is given a neat ultimatum to accept the vice she tries so often to be above. But the rest is dire, with special kudos to Daltry as the most unthreatening vamp ever, who ends up killed by coincidence!!
Antony Stubbs
Super Reviewer
Vampirella Quotes
There are no approved quotes yet for this movie.