Cirque du Freak: The Vampire's Assistant
(2009)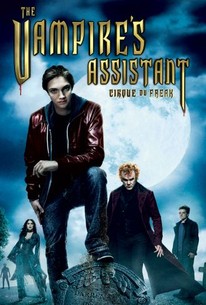 TOMATOMETER
AUDIENCE SCORE
Critic Consensus: This overstuffed, scattershot vampire flick suffers from poor characterization and an unwieldy mix of scares and chuckles.
Cirque du Freak: The Vampire's Assistant Videos
Cirque du Freak: The Vampire's Assistant Photos
Movie Info
Based on the popular series of books by Darren Shan, Cirque du Freak: The Vampire's Assistant tells the story of a small-town teen who inadvertently shatters a 200-year-old truce between warring factions of vampires. Sixteen-year-old Darren (Chris Massoglia) is your typical adolescent; he spends most of his time with his best friend, Steve (Josh Hutcherson), earns decent grades, and generally manages to stay out of trouble. But trouble finds Darren when he and Steve make the acquaintance of a vampire named Larten Crepsley (John C. Reilly) while attending a traveling freak show at a local theater. Transformed into a bloodsucker by Crepsley, Darren joins the Cirque Du Freak and quickly ingratiates himself with the unusual cast of characters who populate it, including Madame Truska the Bearded Lady (Salma Hayek) and the traveling sideshow's towering barker (Ken Watanabe). As Darren works to master his newfound powers as a budding member of the supernatural underworld, he becomes a valued pawn between the vampires and their deadlier rivals, the Vampaneze. With tensions between the two sects intensifying, Darren must figure out a means of keeping the coming war from destroying his last vestige of humanity. Patrick Fugit, Orlando Jones, Willem Dafoe, and Jane Krakowski co-star.
Critic Reviews for Cirque du Freak: The Vampire's Assistant
Audience Reviews for Cirque du Freak: The Vampire's Assistant
Forget the Vampire -- the casting director clearly needs assistance! Dumb and poorly cast, but the film had a strange, Baroque charm that made it mildly entertaining nevertheless. And I can't help feeling that pitting the "vampires" against the "vampanese" (i.e., the violent vamps) was obliquely racist.
Christian C
Super Reviewer
Playing out much like a young adult fiction book (which it's based off of) it's very clear that the slight disjointed feeling of the plot is the entire studio's fault more than the script's. They are trying to make the next children's franchise with the adaptation of the book of the same name by Darren Shan. The story suffers from the fact that they won't tell us anything concrete or lasting. The characters shown aren't all too developed, mostly because of the bias against using characters that were freaks. They slap on some moral message about equality, friendship, and the choices we make versus who we are, and they believe they can simply define someone as a freak and don't need personalities, relationships, and the intricacies of someone we all want to watch. Yeah, some lackluster effects are good and all, but I would rather hear what Jane Krakowski has to say then see her arm grow back (which was surely the most illogical part of the film.) Using her as an example, I didn't get to know that character one iota. Besides the likable main characters and crass word choice none of this ran as a film with a true plot, but an extenuation of a series of films. It wasn't even a true kids movie, since there is unneeded swearing and some strange choices in violence, the definition of what adolescents say in private, and the romantic angle between Darren (Massoglia) and some nothing girl who is, you guessed it, also a freak. The effects were, for the most part, very low grade, and the mythology between vampires and the "Vampenese" first of all just sounds like veiled racism, and second made either no sense, or left me incredulous. The powers of the vampires have been improved or made new amongst the other hollow vampire related faire as of late, but it wasn't enough to keep it from being camp. Reilly is for sure the best aspect of this film, though he shouldn't fit along with the rest of the cast. Yes, his accent is hard to place or awkward throughout, but his crude weirdness works well with the personality of the character. Most of the stars are for the fact I somewhat enjoyed myself even with all these flaws because it was never meant to be perfection, but some strange sub strait. I just wonder if it will indeed lead to a series of films.
Spencer S.
Super Reviewer
Bad acting in this unfaithful unfantastic adaption to a fantastic book. John C Reilly gives a good performance but even he cant save the film from its unconsistent pacing.
Directors Cat
Super Reviewer
Cirque du Freak: The Vampire's Assistant Quotes
| | |
| --- | --- |
| Darren Shan: | Can I, like, turn into a bat and stuff? |
| Larten Crepsley: | No. That's bullshit. |
| | |
| --- | --- |
| Evra the Snake Boy: | *whispers/chuckles* You're like Crepsley's bitch now. |
| Evra the Snake Boy: | [whispers/chuckles] You're like Crepsley's bitch now. |
| | |
| --- | --- |
| Larten Crepsley: | I will not make you a vampire.You must forget about it.Go home and get on with your life. |
| Steve: | No! I won't forget! I'll get you for this, I don't care how long it takes.One day, Vur Horston, I'll track you down and kill you for rejecting me! |
| Steve: | No! I won't forget! I'll get you for this, I don't care how long it takes. One day, Vur Horston, I'll track you down and kill you for rejecting me! |
| | |
| --- | --- |
| Larten Crepsley: | Don't use your fist. You have something better. Use your fingernails. Like this. (Slashes the tree). |