Vampire's Kiss
(1989)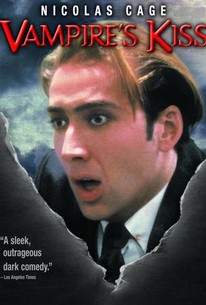 Movie Info
Peter Loew, a sleazy NYC literary agent, prowls the bars in the evening looking for some action. One night he hooks up with Jennifer Beals, and in the course of their relations, she bites him on the neck. When he wakes up the next morning, Peter doesn't feel quite right. He is irritable, and has a hard time dealing with life at the literary agency, where his secretary takes the brunt of his ire. Suddenly, it dawns on Peter that he was bitten by a vampire, so he goes out and buys a set of real fangs. Then the chaos begins.
Critic Reviews for Vampire's Kiss
Audience Reviews for Vampire's Kiss
Nick Cage plays a snooty New Yorker who believes he may have been bitten by a vampire, believes he may be turning into one himself. Or, an already over-the-top actor is absolutely let go for over the course of a whole film. It's a different film experience. Alonso watches horrifically from the sidelines.
Kevin M. Williams
Super Reviewer
At the witching hour in NYC, the opening title sequence for the fiendishly pell-mell, daft cult classic 'Vampire's Kiss' is drenched in atmospheric ghoulishness. When a bat flutters around his apartment, it's a toss-up as to who is frothing more rabidly: the winged beast or Cage as the womanizing literary agent. For the record, Cage's flights of bombastic, gangly grandeur don't really occur until the half-hour mark. Cage nails the snide Upper West Side accent and who else could sincerely deliver the line "I was in mortal combat with a fucking bat". It's only germane for the film's darkly humorous sensibilities that the tone is more sobering than broad like a sulfuric Bret Easton Ellis novel (much like Patrick Bateman, Cage is a white-collar professional in Paul Smith suits with homicidal delusions). Public outbursts are Cage's forte and this is practically an acting showcase for his tics and mannerisms but it doesn't diminish how eminently sensational he is. Rather than chewing the scenery, he literally obliterates in a scene where he completely vandalizes his own apartment and eats a live cockroach. Along with Cage's askew Method theatrics, we are regaled with a nubile Jennifer Beals in lingerie. On the downside, Cage's mistreatment of his secretary (Maria Conchita Alonso) is brazenly misogynistic to the point where a rape is ostensibly envisioned as a rib-tickling set piece (ex. When Cage confesses, his psychiatrist blithely remarks "It's just a little id release. No need to worry.").
Cory Taylor
Super Reviewer
Back when vampires had a certain deadly sex appeal, not overly romanticized like they are, vampire films were lots of fun and highly entertaining. Vampire's Kiss is another standout vampire feature from the 1980's. Starring Nicholas Cage, who is terrific in the lead performance of Peter Loew, a man who falls victim to a vampire. Cage delivers a powerful performance here, and it ranks among his finer, more underrated performances as well. The film has a great blend of horror mixed with hints of black humor to really make something unique. What we end up with is an overlooked vampire film that deserves to be rediscovered. While films like Fright Night, The Lost Boys and Near Dark get the credit as being the three best vampire flicks of the decade, Vampire's Kiss is also in the same category, although no one ever seems to mention this film. The film features several memorable scenes, especially the one where Cage is his office and losing his and threatening to fire his secretary, which inspired an internet meme. This film is a must watch for any genre fan, and viewers who are normally reluctant to watch a Nicholas Cage film due mainly to his recent body work, might be surprised at how good he is here. Every scene he's in, he just commands it, with a dark intensity and his performance alone should make anyone want to watch this film. The writing is brilliant, and in terms of vampire films, this one is straight forward, one that relies on the cold blooded nature of the bloodsucker lore, and making something truly remarkable in the process. As far as vampire films go, Vampire's Kiss is sure to satisfy genre fans, and it's a highly entertaining film that you can sink your teeth into.
Vampire's Kiss Quotes
| | |
| --- | --- |
| Peter Loew: | "AM A VAMPIRE, AM A VAMPIRE". |
| | |
| --- | --- |
| Alva Restrepo: | Are you alright, Mr. Loew? |
| Peter Loew: | Shut up, bitch! |
| | |
| --- | --- |
| Peter Loew: | Alva, there is no one else in this entire office that I could possibly ask to share such a horrible job. You're the lowest on the totem pole here, Alva. The lowest. Do you realize that? Every other secretary here has been here longer than you, Alva. Every one. And even if there was someone here who was here even one day longer than you, I still wouldn't ask that person to partake in such a miserable job as long as you were around. That's right, Alva. It's a horrible, horrible job; sifting through old contract after old contract. I couldn't think of a more horrible job if I wanted to. And you have to do it! You have to or I'll fire you. You understand? Do you? Good. |
| | |
| --- | --- |
| Peter Loew: | I'm a vampire. Kill me! |