Vampires: Los Muertos
(2002)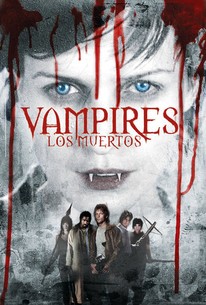 Vampires: Los Muertos Photos
Movie Info
A vampire hunter (Jon Bon Jovi) and a priest (Tim Guinee) fight a band of the walking dead in Mexico. Cristian de la Fuente, Natasha Gregson Wagner, Darius McCrary, Diego Luna, Honorato Magaloni. Una: Arly Jover.
Critic Reviews for Vampires: Los Muertos
All Critics (5) | Fresh (1) | Rotten (4) | DVD (4)
A great leading man is nothing with bad dialogue, an inept story, and terrible supporting cast.
Despite a handful of worthwhile horror moments, Vampires: Los Muertos is almost entirely dead on arrival.
Vampires: Los Muertos is far more entertaining than it has any right to be, mostly due to Wallace's inventive direction and Bon Jovi's engaging lead performance.
Audience Reviews for Vampires: Los Muertos
I would say "Vampires: Los Muertos" is the vampire film with the worst acting I have ever seen -- but I've actually seen "Drink Me". This is bad, B-movie horror at its most milquetoast.
Christian C
Super Reviewer
½
John Carpenter is back, sorta...hurray!! A sequel to 'Vampires'? yeah OK I can go with this, starring Jon Bon Jovi...hurray!...wait what?? Yes so Carpenter produced this movie, a sequel to his quirky gory original that doesn't have anything to do with the first movie (accept for one item), has none of the original cast but exists within the same universe...apparently. Yes this did go straight to DVD. I guess the main thing that bothers me about this movie is the fact its just a complete rehash of the first movie albeit with a new vampire hunting team. The main vampire here is also after the same black crucifix from the first movie...so its the same. But what in the name of Aztec buggery is Bon Jovi doing in this movie? your guess is as good as mine because other than attracting a young audience it makes no sense. Wait did I just answer my own question? funny thing is I don't actually think anyone knows this movie exists. So Bon Jovi is the team leader (I'm rolling my eyes right now...as you should be too). There is a priest who in a big faux pas is actually better looking, has a nice tan, has better hair and bigger muscles than Bon Jovi making the aging rocker look kinda pathetic. Add to this there is the token female character who is actually a vampire but holds it back with some miracle drugs, a 14 year old lad and the obligatory token black guy so everybody is happy. I might also add that none of these characters actually end up doing anything of much interest throughout the movie because its so utterly boring and bland. Nothing really happens in this movie, all we see is this group trudging around grimy Mexican locations looking for vampires in ruined abandoned churches (always religious places). All the visuals are totally cliched and have come straight outta the Robert Rodriguez book of filming in Mexico. The main vampire is a skinny white woman who doesn't really come across as threatening at all. She's after the black crucifix that will enable vampires to walk in the daylight somehow, but she seemingly works alone as we don't really get much other bloodsucker action from anyone else...or at all. What really chafes my nipples is the fact director Wallace has the nerve to reuse the tow cable method they used in the first movie for dragging vamps out of buildings into the daylight. In the first flick this was a new quirky angle that kinda worked, here its just blatantly abused simply so it runs along the same lines as the original. There is no need for it at all and it doesn't even make any sense! dragging a thrashing vampire outside through a building? surely the vampire can just grab a hold of anything to stop it. What's so daft about it is in this movie they are so deep inside a building when they use it, so many corners and corridors, its ends up a pointless endeavour as anything could hinder the dragging. I never really understood the point of it anyway, just cut of the head and stake em'. The action feels muted and dull when it does show up, I kinda got the impression Bon Jovi didn't wanna get too sweaty otherwise it might curl up his clearly straightened hairdo. What is more amusing is watching him trying act macho and moving around a vampires nest holding a very obvious fake stake handgun...oh and lets not forget all the silly macho one liners and quips that any action thriller requires. The plot also involves a method of bringing a person back from being a vampire, a blood transfusion removing all the vampire blood and replacing it with human? is that even possible? Surely you would have to drain every last drop of infected blood from the vampire and then you'd die. Did they pinch this idea from 'Near Dark'? I didn't like it there either. The original Carpenter flick wasn't exactly great, it was a cliched western with killers for hire which was kinda different. This movie simple uses the first films name and delivers a much weaker product. Yes there is still blood and gore, yes its about a hired killer...but who cares. All the characters are terribly weak and uninteresting and Bon Jovi in no way comes across as a hardened vampire killer. I could forgive if the vampire hunting team was at least cool with an interesting cast but they couldn't even deliver on that. The fact the main vampire was also pretty awful and dismal is pretty much the final nail in the coffin.
Phil Hubbs
Super Reviewer
Snazy vampire flick where a couple of vampire hunters recruit a young boy and help a priest.
Alexander Wilson
Super Reviewer
Vampires: Los Muertos Quotes
There are no approved quotes yet for this movie.