Van Helsing: The London Assignment
(2004)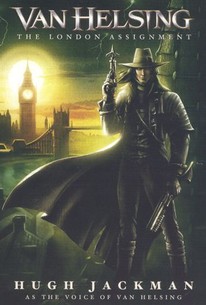 AUDIENCE SCORE
Critic Consensus: No consensus yet.
Van Helsing: The London Assignment Photos
Movie Info
This animated prequel to the 2004 summer blockbuster Van Helsing finds the titular monster hunter heading to London to try and stop none other than the horrific Dr. Jekyll and Mr. Hyde. Hugh Jackman supplies his vocal talents to the relatively slim 33-minute film, with David Wenham, Alun Armstrong, and Robbie Coltrane also reprising their roles. The animation was produced by Sunwoo Entertainment, while executive producing duties go to Stephen Sommers and his longtime editor/producer chum Bob Ducsay.
Critic Reviews for Van Helsing: The London Assignment
There are no critic reviews yet for Van Helsing: The London Assignment. Keep checking Rotten Tomatoes for updates!
Audience Reviews for Van Helsing: The London Assignment
In the same year that Stephen Sommers hyper animated movie burst into the cinema we also got this not quite so hyper actual animated prequel. The short story tells us what happened before Van Helsing arrived in Transylvania, his previous mission trying to capture Dr Jekyll in London...obviously. The plot for this is a bit far out if you ask me but I guess nothing is a surprise coming from Sommers. Van Helsing is investigating a very Jack the Ripper-esque affair where by people are being mysteriously murdered horribly and seemingly drained of their life force. Its nothing very original to be frank, at first I thought they really should of just used the Ripper as the villain its such an obvious copy. The thing is, Dr Jekyll is using this life force to make and keep his love...Queen Victoria, young and beautiful so they can be together. Yep Queen Victoria...as if right, but that's not all the story makes out that beneath Buckingham Palace there are some huge hellish fiery caves or catacombs where Dr Jekyll will live with his young Queen Vic, it looks like some kind of underground city you'd see in the old 80's cartoon Dungeons & Dragons. I know its just a prequel idea for an animation that will never see the light of day but it is suppose to be cannon and may have been made had the movie gone down better (dunno why it wasn't actually). But the plot is so dumb and feels like its been whipped up so fast just to get it out asap after the movie release. You only have to look at the DVD cover to see how poor it is, the artwork is lame and cheap looking, mind you the animation isn't much better. It really does look like an old children's cartoon that you'd watch on a Saturday morning, there is no flair, nothing quirky or unique about it, its just plain and average looking with really drab colours and layouts. On top of that the characters don't even resemble their movie character counterparts! Van Helsing is completely different looking facially and with straight hair, where as Wenham's character is now a young looking boy or someone in his early twenties. The only character accurately depicted is Mr Hyde who is spot on. Nothing wrong with that but only if they look good, these two heroes just look generic and boring. Basically the only reason they made this is because of the one line of dialog from the movie where Van Helsing says to Mr Hyde that he missed him in London (referring to gun shots). Mr Hyde then replies that he didn't miss, he actually hit him. So for some reason Sommers and co thought we needed to see some fast tracked back story about how Mr Hyde ended up getting shot by Van Helsing and the rest of that mission. Yeah OK not a bad idea if the mission was of any interest and not totally crap, oh and maybe if the animation was any good also. Just having the actual cast voice the characters in this doesn't mean it will be instantly worth it, the rest must be good too.
Phil Hubbs
Super Reviewer
½
It's a prequel so to speak animated movie Van Helsing, I expected a little lighter, a little bloody, is entertaining but not remarkable.
Rodrigo Ramirez Corona
Super Reviewer
½
For a straight to dvd animated tie in to Van Helsing, this is pretty amazing. It actually has some good animation in there and showcases the voice talent of Hugh Jackman. I love the Jekyll and Hyde storyline that they had in the opening of Van Helsing and this just goes deeper into that arc. It's like a James Bond/Sherlock Holmes mystery and definitely delivers.
Conner Rainwater
Super Reviewer
Van Helsing: The London Assignment Quotes
There are no approved quotes yet for this movie.