Vanilla Sky
(2001)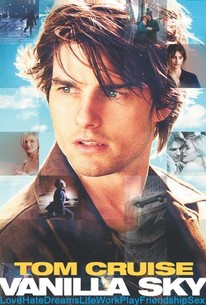 TOMATOMETER
AUDIENCE SCORE
Critic Consensus: An ambitious mix of genres, Vanilla Sky collapses into an incoherent jumble. Cruise's performance lacks depth, and it's hard to feel sympathy for his narcissistic character.
Movie Info
A remake of the Spanish film Open Your Eyes (1997), this thriller from director Cameron Crowe bears one of several discarded titles for his previous, Oscar-winning film Almost Famous (2000). Tom Cruise stars as David Ames, a womanizing playboy who finds romantic redemption when he falls in love with his best friend's girlfriend Sofia (Penelope Cruz, reprising her role from the original film). Before that relationship can begin, however, David is coaxed into a car driven by an ex-lover, Julie (Cameron Diaz), who turns out to be suicidal. Driving her car off a bridge, Julie kills herself and horribly disfigures David. Reconstructive surgery and the loving support of Sofia seem to reverse David's luck, but eerie incidents are soon making him question the reality of his existence and his control over his life, even while he is suspected of complicity in Julie's death. Vanilla Sky (2001) bears the expected Crowe trademark of an obsession with recent pop culture and particularly rock music, a more important element of the remake than the original film. That project's writer/director, Alejandro Amenabar, crafted his own supernatural hit the same year with The Others (2001), starring Nicole Kidman, the soon-to-be-ex-wife of Cruise. ~ Karl Williams, Rovi
Critic Reviews for Vanilla Sky
Audience Reviews for Vanilla Sky
½
Penélope Cruz looks incredibly bored, as if forced to be in this overlong remake that seems more like an endless series of music videos with way too many songs and pop references all the time, while Crowe's changes in the original story (despite his personal style) only make it worse.
Carlos Magalhães
Super Reviewer
Being a massive fan of Cameron Crowe's work, "Vanilla Sky" has always been one of his pieces that I have never had the urge to watch. After mustering up the time to view it, I can truthfully say that even though I liked it, I really do not have a clue if it is a good or bad film. Tom Cruise plays David, a self-obsessed man who falls in love a few times, before getting into a car accident, but really not. The film begins to branch off of that ideal about forty-five minutes in, and actually becomes confused within itself, demanding your full attention in order to fully comprehend where it decides to go in the conclusion. It is one of those films where you either you believe in it or you will hate it. For me, I do not believe in what happened in the end, but I appreciate the thought that went into it. Overall, this complex "love story" had me from the beginning, but then began to drag me around until the ending explained it all. It is a very odd story to put on film to begin with, so I think Crowe did the best he could with it. It is a very well-made, yet flawed picture that I believe is good. "Vanilla Sky" is enjoyable fluff.
Good movie. Saw it years ago, couldn't remember the plot, so second watch was still a surprise. Won't post any spoilers, but it does make sense at the end, which is a plus in this type of movie. I have to say, I am really not a Tom Cruise fan at all, but he does a good job here. As do Cameron Diaz and Penelope Cruz. My favourite scene is the one early on when he goes down the deserted street in New York City. Very effective and actually I like the way the whole film was shot. It is a long movie which doesn't feel long or wear out it's welcome. I must add I have not seen the original movie, so my review only speaks for this remake.
Nicki Marie
Super Reviewer
Vanilla Sky Quotes
| | |
| --- | --- |
| David Aames: | I don't know what's real. |
| | |
| --- | --- |
| Sofia Serrano: | What is your nickname? |
| David Aames: | Citizen Dildo. |
| | |
| --- | --- |
| David Aames: | There is no murder. There is no murder! |
| | |
| --- | --- |
| Sofia Serrano: | I'll see you in another life, when we are both cats |
| Sofia Serrano: | I'll see you in another life, when we are both cats. |