Vanity Fair
(2004)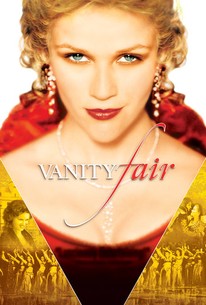 Movie Info
The daughter of a starving English artist and a French chorus girl, Becky is orphaned at a young age. Even as a child, she yearns for a more glamorous life than her birthright promises. As she leaves Miss Pinkerton's Academy at Chiswick, Becky resolves to conquer English society by any means possible. She deploys all of her wit, guile, and sexuality as she makes her way up into high society during the first quarter of the 19th century. Becky's ascension to the heights of society commences when she gains employment as governess to the daughters of eccentric Sir Pitt Crawley. Becky wins over the children, and the Crawley family's rich spinster Aunt Matilda as well. The rural Hampshire household comes to find her indispensable, and Matilda comes to confide in the bright young woman. But Becky knows that she cannot be a true part of English society until she moves to the city. When Matilda invites her to come live in London, Becky eagerly accepts. There, Becky is reunited with her best friend Amelia Sedley, who-having grown up comfortably--does not share Becky's more brazen ambitions. Hewing close to the family she already knows so well, Becky secretly marries dashing heir Rawdon Crawley but when Matilda discovers their union, she casts the newlyweds out. When Napoleon invades Europe, Rawdon bravely reports to the front lines. Pregnant Becky stands by distraught newlywed Amelia, whose own husband George Osborne is also called to fight. When George does not survive the Battle of Waterloo, Becky's friendship with Amelia is strained beyond repair. Becky is reunited with Rawdon and gives birth to a boy, but, post-war, money and comforts are sparse for the trio. More intent than ever on gaining acceptance into London society and living well, Becky finds a patron in the powerful Marquess of Steyne. Steyne's whims enable Becky to realize her dreams, but the ultimate cost may be too high for her.
News & Interviews for Vanity Fair
Critic Reviews for Vanity Fair
Audience Reviews for Vanity Fair
I see I liked this as I rated it 4 stars, but just tried to rewatch it today and it honestly did nothing for me. I don't like period pieces in general, I can only put it down to I was going through a Reese Witherspoon phase. That might have cooled a bit since her drunken antics, although there are still movies I love her in. This apparently isn't one of them. Will keep original rating as it was valid at the time, and to be fair I switched this off 20 minutes in and can't remember a lot about it, maybe it improves. Oh, and Reese staring in this while pregnant was a real dud move. They have filmed and dressed her to hide it, but it's still pretty obvious.
Nicki Marie
Super Reviewer
[img]http://images.rottentomatoes.com/images/user/icons/icon13.gif[/img] It's period set pieces are designed pretty well, the costume design is imaginative, and technically, Vanity Fair is kind of excellent. However, i'm not sure if i'm the only one who saw this but Reese Witherspoon's performance is a bit of a mixed bag, sometimes she acts convincingly, but in the more dramatic moments she tends to crack slightly. Also her character, Becca Sharp, like many have said is supposedly dislikable, even if the film managed to make her that way she still wouldn't be that interesting. Mainly due to it's incoherent uncertain style of storytelling. In addition the ending is highly unclimatic and as a whole, the film is just too long. It's not terrible because there are some good supporting performances, such as Tony Maudsley's, but it's often quite dull and lifeless and suffers from various sub plots and a bloated amount of unnecessary characters.
Directors Cat
Super Reviewer
Yuck, just yuck. Long, dull, boring, ridiculous. So much does not make sense about this movie it's ludicrous why Mira Nair would decide to set part of in India. I know part of this is Thackeray's problem and not Nair's, but...seriously?
Jennifer Xu
Super Reviewer
Vanity Fair Quotes
There are no approved quotes yet for this movie.