Vatel
(2000)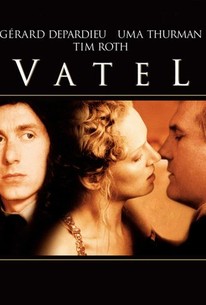 Movie Info
In 1671, Francois Vatel, a master chef, entertainer and steward, is hired by the Prince de Conde to prepare an important feast for the upcoming arrival of King Louis XIV. However, it will take nothing short of a miracle to prepare a fete fitting for royalty while Conde's provinces rest on the verge of financial ruin. Vatel, however, is a culinary genius possessing a heightened sense of resourcefulness with which to resolve each new crisis that threatens to damper the festivities. He is caught off guard by only one unforseen factor -- the ravishing beauty of royal newcomer, the regal Anne de Montausier. Not only has she caught the king's eye but also those of Vatel and the king's nasty aide the Marquis de Lauzon. To the monarch and the marquis she is but a sexual conquest, but Vatel and Anne recognize the decency and honesty in each other, qualities in short supply in the rarefied world in which they exist.
Audience Reviews for Vatel
A quite entertaining costume drama filled with intrigue and debauchery. Integrity was highly prized and rarely found in the court of Louis XIV. Vatel (Gerard Depardieu) is in charge of providing lavish entertainment and banquets for the king's visit and discharges his duties without flaw. So much so, that his services are required at Versailles, but at a cost too dear for this man of humble origins. The cast is superb (Thurman and Roth bear special mention), the scenery is extravagent, and the story has enough twists and turns to keep the viewer engaged for its near two hour length. The costuming and sets alone are worth the price of admission. At a time when a king's displeasure was paid for with one's life, and honor often took a back seat to expediency, a man like Vatel invited envy as well as admiration. And in rare instances the affections of a lady.
Mark Abell
Super Reviewer
Vatel Quotes
There are no approved quotes yet for this movie.