Vegas Vacation
(1997)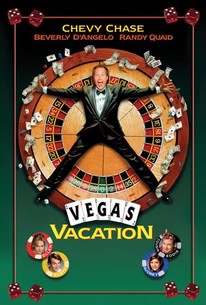 Movie Info
This is the fourth in a series of movies that began with National Lampoon's Vacation in 1983 and feature the family headed by Clark Griswold (Chevy Chase) going on wacky vacations. This time, the Griswolds visit Las Vegas. Clark immediately goes to the blackjack table and starts blowing all his money, continually encouraged to spend more and more by a taunting dealer, Marty (Wallace Shawn). Ellen Griswold (Beverly D'Angelo) becomes smitten with the lounge singer Wayne Newton (playing himself), who invites her to sing onstage with him. Their son Rusty (Ethan Embry) is incredibly lucky playing dice, and he is virtually adopted by a family of gangsters who see him as their meal ticket. Daughter Audrey (Marisol Nichols) gets hooked up with her wild cousin Vickie (Shae D'Lyn), who takes her to sleazy dance clubs. White-trash cousin Eddie (Randy Quaid), who lives on a former A-bomb test site in the nearby desert, also gets involved with the capers. ~ Michael Betzold, Rovi
Critic Reviews for Vegas Vacation
Audience Reviews for Vegas Vacation
While a slight improvement of "European Vacation," the (technically) fourth film in the "Vacation" franchise is extremely poor, while still managing to keep us liking it's characters, which is a rare feat. If the cast had been replaced, this film would have been a whole lot worse. The shenanigans that the characters get into are usually the best parts of these films, and there is no exception with that here. Aside from that very little praise I can give the film, "Vegas Vacation" is not only one big commercial for Vegas, but it also says that not matter where a family goes, they can always have fun if they are together. It is definitely the most family friendly of the road trip films (Christmas Vacation notwithstanding). There is really not much to say about this film. It is a lazily written romp about a family visiting Las Vegas that could have easily been better. With a few enjoyable moments, it makes it a more morable sequel than European, but it is still not a good movie in any way shape or form. The "Vacation" films have always been up and down, and this is definitely one of their downs.
½
The Griswolds are back, and this is easily their worst vacation yet. I don't think it's as awful as some do, but yeah, it is really dumb, tired, dull, and overly reliant on formula. And also devoid of contributing anything new. I still give it some credit though, because it does have its moments, even though I really don't want it to continue after this. Featuring new kids but the same parents (a series tradition), Clark decides to take the family to Vegas where, besides having lots of fun, he also plans to renew his wedding vows to Ellen. As you'd expect, all sorts of trouble and shenanigans ensue, all of them with predictable results, but at least this time each Griswold had their own subplot, which doesn't often happen. The movie does have a decent amount of laughs, but it's definitely more misses than hits. At least Quaid is back, and we do get some great cameos and special appearances, most notably Wayne Newton and Wallace Shawn to save things, so that's good I guess. Overall though, this is just run-of-the-mill blah, and nothing really all that special.
Chris Weber
Super Reviewer
½
Hmmm losing the appeal here, nice idea and nice touches here and there, Chase still makes me laugh as does Randy Quaid as 'Eddie' but the comedy is becoming a bit forced now. Just about acceptable on the whole, best scene...'Clarke' tells a porky to wife 'Ellen' about not being hooked on gambling, then proceeds to leave the room go downstairs to the gambling den, using a cam shot following his progress, places a bet, loses, lets out the most hilarious grimace of frustration and then proceeds to run back upstairs to 'Ellen' LOL! That is pretty much the best sequence and funny moment in the entire film with some good old fashioned facial humour from Chase, the rest is rather mundane to be honest but you could still do worse.
Phil Hubbs
Super Reviewer