Velvet Buzzsaw
(2019)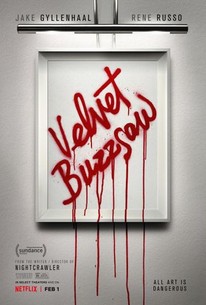 TOMATOMETER
AUDIENCE SCORE
Critic Consensus: If you only watch one art-world satire with horror overtones this year -- or most others -- it should probably be Velvet Buzzsaw.
Movie Info
Velvet Buzzsaw is a satirical thriller set in the contemporary art world scene of Los Angeles, where big money artists and mega-collectors pay a high price when art collides with commerce.
Critic Reviews for Velvet Buzzsaw
Audience Reviews for Velvet Buzzsaw
Obvious and pedantic like Gyllenhaal's character, this is a silly horror movie that believes to be so clever but doesn't even seem to grasp the irony of being produced by Netflix, suffering also from an excess of characters (what is John Malkovich doing here?) and expository dialogue.
Carlos Magalhães
Super Reviewer
½
YES, BUT IS IT ART?  - My Review of VELVET BUZZSAW (2 1/2 Stars) I loved Dan Gilroyï¿ 1/2(TM)s NIGHTCRAWLER. It remains one of my favorite films of 2014. I didnï¿ 1/2(TM)t see his follow-up, ROMAN J. ISRAEL, ESQ., for no other reasons than I never found the time or felt the urgency. I got excited, however, about his latest, VELVET BUZZSAW upon learning he had Jake Gyllenhaal and Rene Russo (Gilroyï¿ 1/2(TM)s wife) back together again. Furthermore, it featured a a satirical/slasher storyline which literally and figuratively skewered the art world. Pretentious snobs meeting their maker? Where do I sign? Unfortunately, Gilroy doesnï¿ 1/2(TM)t quite deliver a fully satisfying satire or thriller, leaving the film a gorgeously shot, unevenly acted half-measure. Gyllenhaal stars as a top art critic named Morf Vandewalt (not kidding), a gesticulating, bisexual, bespectacled snooty-snoot who wields more power than is credible in making or breaking careers. We live in a world where Instagram likes trump good newspaper reviews, but Morf(!) rules the day here, and so we go with it. Heï¿ 1/2(TM)s surrounded by a community of self-serious snobs and cutthroat types, including Rene Russoï¿ 1/2(TM)s as a named dealer Rhodora Haze(!), Gretchen, a rival dealer with a blond bob played by Toni Collette, a strange agent named Jon Dondon(!) played by Tom Sturridge, a couple of humorless artists played by David Diggs and John Malkovich, and Rhodoraï¿ 1/2(TM)s long-suffering lackey Josephina (Zawe Ashton). The roster of names alone could serve as its own satire. One day, amidst all of the artistic bitchery, Josephina stumbles upon her dead neighbor, an unknown artist who left instructions that all of his work be destroyed at his death. Grasping the beauty of his work, haunting Francis Bacon-style tableaus, Josephine instead commodifies it and with Rhodoraï¿ 1/2(TM)s guidance, sets the art world on fire. This clearly doesnï¿ 1/2(TM)t sit well with someone as one-by-one, these art freaks keep getting killed. Suddenly, weï¿ 1/2(TM)re in a film where FRIDAY THE 13TH meets the Amy Adams parts of NOCTURNAL ANIMALS, which on paper sounds amazing. What we get is half-baked on both ends. As a satire, Gilroy has given us a parade of thoroughly repulsive characters. I understand itï¿ 1/2(TM)s the point of the whole affair, but that doesnï¿ 1/2(TM)t make it fun to watch. I suppose Josephina comes the closest to serving as an empathetic character, but sheï¿ 1/2(TM)s such a collection of nervous tics and bad moods that I didnï¿ 1/2(TM)t really care where her fate lied. I applaud Gilroy for writing such assertive characters for his wife, but Rene Russo, besides carrying the filmï¿ 1/2(TM)s title in a tattoo on her clavicle, has very little to do here except bust everyoneï¿ 1/2(TM)s chops. Worst of all, Gyllenhaal has clearly entered the experimental/character actor phase of his career. Rejecting bland leading roles has merit. It worked for Johnny Depp until he turned into a cartoon of himself, and I fear Jake may fall down the same rabbit hole. Still, Iï¿ 1/2(TM)d rather see him work with interesting directors in offbeat roles than in some schlocky comic book movie, but he may wish to dial back on the mannerisms sometimes. All told, the satirical elements only add up to tell us what we already know - that the art world consists of vicious egomaniacs whose tastes in art are as ridiculous as their outfits. As a slasher film, VELVET BUZZSAW doesnï¿ 1/2(TM)t quite work either. Except for one clever kill involving a shiny sculpture you stick your whole arm into, none of the deaths will delight the Fangoria crowd and the whodunnit aspects neither deliver nor satisfy. I like the title of the film, but as itï¿ 1/2(TM)s explained in the movie, as a backstory for one of its characters, it really doesnï¿ 1/2(TM)t resonate. Same goes for the movie itselfï¿ 1/2a fun but forgettable and meaningless splat.
Glenn Gaylord
Super Reviewer
Was I disappointed? Taking in to consideration the fact that I'm being delivered Velvet Buzzsaw by the same writer, director, and star as Nightcrawler, honestly, yes. But that is a very high bar to try and meet, falling short of it is none too heinous an offence. On its own merits, Velvet Buzzsaw features some magnificent acting, cool effects, engaging plotline, despicable characters and a hefty dose of originality. It's not a perfect film, it's probably not even a great film, but I've started years off in far worse ways before.
Velvet Buzzsaw Quotes
There are no approved quotes yet for this movie.