Velvet Goldmine
(1998)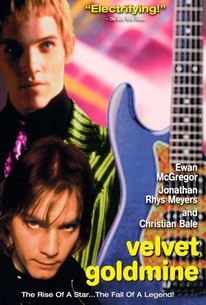 TOMATOMETER
AUDIENCE SCORE
Critic Consensus: Velvet Goldmine takes a visual and narrative approach befitting its larger-than-life subject, although it's still disappointingly less than the sum of its parts.
Movie Info
At the 1998 Cannes Film Festival, American independent director Todd Haynes (Safe) received the "Artistic Achievement" award for this re-creation of the UK glam rock scene of the early '70s. Glam rock star Brian Slade (Jonathan Rhys Meyers), who does a character named Maxwell Demon, predicts his own death onstage. As per his prediction, this happens, but when the killing is exposed as a hoax, it marks the end of Slade's stardom. A decade later, in 1984, Brit reporter and former Slade fan Arthur Stuart (Christian Bale), who witnesses the hoax murder, gets the assignment to do a "Whatever Happened To..?" article, and the film's plot suddenly goes into a prismatic Citizen Kane mode, reflecting various angles on Slade's life and career. Arthur visits the wheelchair-bound Cecil (Michael Feast), who discovered Slade, and then tracks Slade through his early life and his initial encounter with outrageous, maniacal American singer Curt Wild (Ewan McGregor). Slade's rise begins as manager Jerry Divine (Brit comedian Eddie Izzard) moves in to take over the performer's career. Ex-wife Mandy Slade (Toni Collette), interviewed by Arthur in a dimly lit nightclub, has memories going back to their initial 1969 Sombrero Club encounter. Their marriage paralleled his Bowie-like ascent to fame as an innovative, bisexual rock star pushing the limits. Idolized by teens, Slade teamed up for a while with the drug-addicted Wild. Eventually, the marriage of Mandy and Slade comes to an end, and she hasn't seen him in seven years when she's interviewed by Arthur. The soundtrack features vintage music by Bryan Ferry, Lou Reed and Brian Eno, plus new tunes. Some background on the making of Velvet Goldmine is documented in producer Christine Vachon's book Shooting to Kill: How an Independent Producer Blasts Through the Barriers to Make Movies That Matter (Avon, 1998) by Vachon with Slate film critic David Edelstein. ~ Bhob Stewart, Rovi
News & Interviews for Velvet Goldmine
Critic Reviews for Velvet Goldmine
Audience Reviews for Velvet Goldmine
A reporter investigates the life and legend of a glam rocker who faked his death years ago. Todd Haynes's distinct style of flashy costumes and gay sexuality is on full display in this film. The musical numbers blend in, and the film seems like a chronicle of a sexually free bygone era, one that the director delights in. However, what's left behind is the story. The mystery of Brian Slade's "death" and disappearance takes a back seat to Haynes's love letter to the time, and no compelling dramatic questions emerge. Ewan McGregor, Jonathan Rhys Meyers, and Christian Bale all fully commit to their roles' demands, and Haynes's skill with actors reminds me of Oliver Stone's: these are directors who get stars to do things that stars don't normally do. Overall, I think Velvet Goldmine is a for a niche audience, like most of Haynes's work, and one who is invested in the time and the feeling of the time can find things to like, but for those of us looking for a compelling narrative, Velvet Goldmine doesn't have much to offer. Evan McGregor and Jonathan Rhys Meyers
Jim Hunter
Super Reviewer
It doesn't take a genius to piece this alternate history together: Curt Wild = Iggy Pop, Brian Slade = David Bowie and Jack Fairy = Lou Reed. But if this is a biopic, it's a capital-Q Queer one, which I mean in the academic sense, playing with the performed identities of these performers, hyper-exaggerated as they would have been in the heyday of Glam Rock. While staying mostly in the past - recollected sequences coming through interviews performed by a journalist (Christian Bale) - the film's "present" is also intriguing, as we see Bale's character relive his coming of age and his struggle with the realization that he is gay, and we see how his obsession with the music and performers of the day opened the door. By exaggerating the performed identity, the moderate version (i.e., merely being gay and not straight) begins to appear to be a tenable position, and the music inspires a new confidence in our hero - even though the ambivalent, "anything goes" approach to sex, drugs and rock and roll had varyingly destructive side-effects for the performers. An eye-opening early film from Todd Haynes that plays in the same way that his later Dylan flick, I'm Not There, did, and a visually lush and viscerally challenging movie, a gem that was overlooked in those bubblegum late 90s, Provocative work.
Daniel Perry
Super Reviewer
Brian Slade: Man is least himself when he talks in his own person... Give him a mask and he'll tell you the truth.  "The Rise Of A Star... The Fall Of A Legend." I strongly dislike Velvet Goldmine to the point where it was hard for me to get through the whole thing. I had to fight the urge to turn it off about five or six times. The film has a lot of style, but absolutely no substance. It's a two hour film, with little more than fancy clothes, makeup, and endless concert scenes. There's very little actually here. If it had been 20 to 30 minutes shorter, it would have been tolerable. At the length it runs, it is just a complete mess and a waste of time. Style over substance can work in little doses, but not for two straight hours. I'm not even going to go into plot other than that it is about a glam rock star who fakes his own death. There's many themes that are touched on, but never explored to make the movie more than what it is. Homosexuality, drug abuse, and even the fake death are all themes, but they never realized for what they are. This is supposed to be a look behind what we see in a rock star, but it never really cares to go deep into the psyche or personality of its star Brian Slade. Velvet Goldmine turns out to be nothing more than a stylistic mess, with little to no redeeming value. The three performances from great actors like Jonathan Rhys Myers, Ewan McGregor and Christian Bale aren't enough to save this disaster. I really thought I would like it, but the interesting premise is completely wasted. 
Melvin White
Super Reviewer
Velvet Goldmine Quotes
| | |
| --- | --- |
| Curt Wild: | The world has changed because you are made of ivory and gold. The curves of your lips rewrite history. |
| | |
| --- | --- |
| Brian Slade: | Quite soon we actually plan to take over the world! |
| | |
| --- | --- |
| Mandy Slade: | beauty reveals everything because it expresses nothing |
| Mandy Slade: | What is true about music is true about life: that beauty reveals everything because it expresses nothing. |