Vendetta
(2013)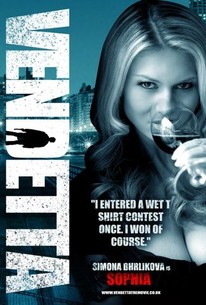 Movie Info
Special ops interrogation officer Jimmy Vickers tracks down a gang who slaughtered his parents. With police closing in & his old unit on his trail, he has to to evade capture long enough to complete his gruesome crusade.
Critic Reviews for Vendetta
Audience Reviews for Vendetta
I really do not like when my friends recommend a movie to me and I have to write a negative review, but I have no other option for this action film written and directed by Stephen Reynolds and starring Roxanne McKee, Danny Dyer, Vincent Regan, Simona Roman and Bruce Payne. The story was about a British Army special operations interrogation officer Jimmy Vickers (Danny Dyer) tracking down a gang who burned his parents alive while at the same time avoiding being cought by police. With police almost catching him near his old apartment, and his old unit on his saving him, he has 48 hours to complete his gruesome crusade. And gruesome it was... how could you enjoy someone being burned or acid poured over his head, or cement pour into the mouth!? Doesn't matter if we say, "They deserved it..." - it will always be very difficult for me to accept the person who keeps doing it as a hero! Directing in general wasn't too bad, but some of the casting was questionable. Details which were not taken care in the directing were annoying - how parents who were Anglicans have their son praying in Orthodox Church, I am not sure... or lightning up petrol with a cigarette butt (please, try... doesn't work) when car explodes in less than 5 seconds... how three guys shooting with automatic weapons or guns in a 5 m long hallway about a 1.5 wide miss the two men going towards them... I have to say that those details insult the intelligence of the future viewers. I could forgive lots of the screenplay holes but when they were combined with directing lack of care, it was impossible to forget. I have to praise the photography, though! Haider Zafar as Director of Photography has shown focus on a strong visual style and likes to incorporate narrative where possible. He was the brightest spot in this project! The film was released in a few select cinemas in the UK on 22 November 2013 where it was the most successful Danny Dyer film since Dead Man Running. If you want to see a modern British action thriller which could be categorized by some as good, and by others as 'jaw-droppingly awful' watch this sometimes bizarre and ludicrous piece of revenge porn.
Vendetta Quotes
There are no approved quotes yet for this movie.