Vengeance Valley
(1951)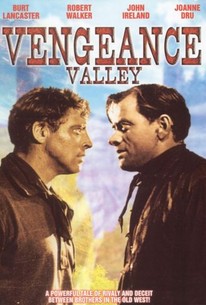 Movie Info
The old "Cain and Abel" plot device is redefined within Western terms in MGM's Vengeance Valley. Burt Lancaster stars as ranch-hand Owen Daybright, who has been raised as a son by rancher Arch Stroble (Ray Collins). Stroble's natural son Lee (Robert Walker) has always been envious of Owen, who in turn has spent most of his life pulling Lee out of trouble and keeping the boy's misdeeds a secret from the elder Stroble. When Lee fathers an illegitimate child, he tries to shift the responsibility on Owen, leading to a life-threatening confrontation with the vengeance-seeking brothers of the baby's mother (Sally Forrest). There's plenty more plot twists before virtue finally triumphs. Joanne Dru co-stars as Lee's long-suffering wife Jen, who harbors a secret yen for Owen. Since lapsing into public domain, Vengeance Valley has shown up with increasing frequency on cable television; it has also been made available in a narrated version for the visually impaired.
Critic Reviews for Vengeance Valley
All Critics (5) | Top Critics (2) | Fresh (5) | Rotten (0)
It is no Red River or Stagecoach, but it offers a strong plot and some excellent scenery and action.

All this talk may tend to slow Vengeance Valley down to a gentle trot at times, but on the whole the picture is a creditable entertainment.

It's Manhattan-born Burt Lancaster's first western, and he proves he can ride tall in the saddle.
Audience Reviews for Vengeance Valley
Colorful western both in script and visual presentation. Good perfomances with Robert Walker a standout.
Vengeance Valley Quotes
There are no approved quotes yet for this movie.