Vera Drake
(2004)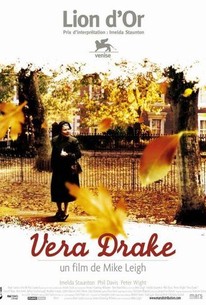 TOMATOMETER
AUDIENCE SCORE
Critic Consensus: With a piercingly powerful performance by Imelda Staunton, Vera Drake brings teeming humanity to the controversial subject of abortion.
Movie Info
Vera Drake is a selfless woman who is completely devoted to, and loved by, her working class family. She spends her days doting on them and caring for her sick neighbor and elderly mother. However, she also secretly visits women and helps them induce miscarriages for unwanted pregnancies. While the practice itself was illegal in 1950s England, Vera sees herself as simply helping women in need, and always does so with a smile and kind words of encouragement. When the authorities finally find her out, Vera's world and family life rapidly unravel.
Critic Reviews for Vera Drake
Audience Reviews for Vera Drake
½
A captivating, impromptu film, directed by Mike Leigh, who takes chances and weaves together a narrative about the lives of the downtrodden working Irish families of the fifties, in this film headed by a woman with a plethora of secrets. Mike Leigh did not write a screenplay for this film, but had most of the actors find their own characters, and then wrote everything around that. The scenes were improvised, and the emotions onscreen, however searing and real, were that of the moment, of the actual characters in their element. Therefore, this is an actor's film, one that is always bursting with the presence of Vera Drake (Staunton). There is a slow, deep resonance of the character of Vera Drake, who though is the main focus of the film isn't always the main priority. There is a whole subset of characters, including the daughter and son, their in-laws, and friends, besides these girls who are actually in trouble. There is also a slight undertone about the history of Ireland, including a women's right to choose, and the illegal means to which women took care of it at the time. More importantly are the implications to Vera's actions, the way it reflects on her family and her role in the community. Though at first I didn't understand the role of the plot in the last hour, it flowed that way to build tension between the family members. When the family hears about Vera's crimes it was the first time for the actors too, and it was genuine and gritty and hopeless all at the same time. Imelda Staunton, who has mostly been pigeonholed into the supporting character actor category so many times before, inexplicably shines. Vera Drake is an amazing character, so filled with a depth and personal tension that comes off her in waves, so much a martyr in many respects and yet she does unspeakable things in her religion and society. She is the epitome of pious maternal instincts and mousy womanhood. It's even hard to watch in certain places, and that all comes from Staunton's grace and serenity in the face of adversity. Beautiful, contextual film that is also a great period piece.
Spencer S.
Super Reviewer
½
In this film Mike Leigh gives us a powerful story of a true working class hero that is at once an indictment and an endorsement of the stereotypical British stiff upper lip. As a whole, the film isn't up to the captivating performance of Imelda Staunton in the title role - it slips into dull and bleak domestic drama from time to time and it moves rather slowly, but Leigh never wastes a shot, and the action picks up in the last hour before the film reaches its stirring conclusion. Worth seeing once.
Daniel Perry
Super Reviewer
½
This is a little slow to begin with but soon you will find that Imelda Staunton who plays Vera Drake Captures your heart and you can't shut it off, her acting was beyond the best. When the law comes to question Vera and then all the scenes from there on out, you just have to see to beleive. I would say you need to rent this today. 4 1/2 stars SEE IT NOW
Bruce Bruce
Super Reviewer