The Verdict
(1982)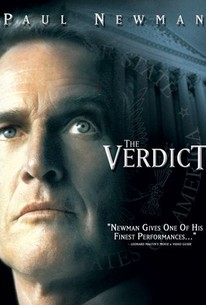 TOMATOMETER
AUDIENCE SCORE
Critic Consensus: Paul Newman is at the peak of his powers as an attorney who never lived up to his potential in The Verdict, supported by David Mamet's crackling script and Sidney Lumet's confident direction.
Movie Info
In Sidney Lumet's powerful courtroom drama The Verdict, Paul Newman stars as Frank Galvin, an alcoholic Boston lawyer who tries to redeem his personal and professional reputation by winning a difficult medical malpractice case. Frank, down on his luck, is presented with the case of his life when he is approached by the family of a woman who has been left in a coma following an operation in a large Catholic hospital. Helped by his assistant Mickey (Jack Warden), he agrees to take the case, hoping for a fast settlement. When he visits the victim in the hospital, he becomes emotionally involved, turns down a sizable settlement offer made by the hospital, and decides to bring the case to trial despite the formidable opposition of the Church and its lawyer, Newman (James Mason). He is also assisted by his new girlfriend, Laura (Charlotte Rampling), a woman who turns out to have an unusual past. Oscar-nominated for "Best Picture" and "Best Director" (Lumet) as well as for "Best Adapted Screenplay" (David Mamet from a novel by Barry Reed), The Verdict is an outstanding, if not very legally accurate, courtroom drama; Frank's decision to try the case without telling the family of the victim of the settlement offer would probably lead to his real-life disbarment. Paul Newman and James Mason give fine, Oscar-nominated performances, and Charlotte Rampling is quite good as the deceitful Laura, who never seems to turn down a drink. ~ Linda Rasmussen, Rovi
Critic Reviews for The Verdict
Audience Reviews for The Verdict
A great, and somewhat realistic portrayal of an anguished alcoholic lawyer trying to get justice and do good for once in a long while. James Mason was spectacular, but Paul Newman's performance was even more remarkable. Charlotte Rampling was the same, deadpan Charlotte Rampling you have seen elsewhere. I suppose it's nice she was in this film, but -- m'eh, coulda been anyone else.
Christian C
Super Reviewer
½
It is always uplifting to see the underdog come out ahead. The acting is great - only the law seems an ass.
The Verdict is one of the finest courtroom dramas ever filmed, the only reason I've given it less than the full stars is that the plot has some convenient points in its last act to provide a studio imposed 'happy ending' that border on cheap. The excellence is wall to wall, starting with a terse, brilliant script by David Mamet, a performance of passion and prefection from that great soul, star Paul Newman in autumnal late middle age, and superbly deft direction from one of the finest American directors who ever lived, Sidney Lumet. It benefits from note perfect supporting perfomances from film icon James Mason, the teddy bear like, truthful presence of the great Jack Warden, sleazy Irish Judge Milo O'Shea, and the mysterious love interest Charlotte Rampling. The story is Newman, by fluke, getting a medical malpractice suit against a powerful law firm acting for the Catholic diocese who run the hospital where a healthy young woman is turned into a vegetable by negligent high profile doctors. James Mason exudes power and smugness as the senior partner with his usual subtlety. Newman is given the case by his colleage Jack Warden who has had enough of his friend's alcoholic negligence and wants to be done with him. Charlotte Rampling is a stunning, almost ghost like presence who offer's Frank one last chance at love in his late years. The dreary color palette and gothic (Boston and New York pretending to be Boston) locations add to the melacholic atmosphere of broken down, end of his rope ambulance chasing lawyer Frank Galvin (Newman). Music is minimal and close ups are used very sparingly. Galvin's need for redemption is so palpable that any human heart watching this gut wrenching performance is made to care deeply that he succeeds. Somehow, this 'need for redemption' trope, normally a hackneyed cliche, which fails in so many similar movies of the recent era is as perfectly executed here, due to Mamet's economical, unsentimental use of words (look for Galvin's haunting jury summation) and Newman's self-effacing, brave emotional nakedness. This film grips for all of its two plus hours, and though it may look a little old fashioned to modern eyes, it is very rewarding viewing. An almost pefect film.
Josh Morris
Super Reviewer
The Verdict Quotes
| | |
| --- | --- |
| Ed Concannon: | They lied?! They lied?! |
| Ed Concannon: | They lied? They lied! |
| | |
| --- | --- |
| Frank Galvin: | I'm her attorney. |