Veronica Guerin
(2003)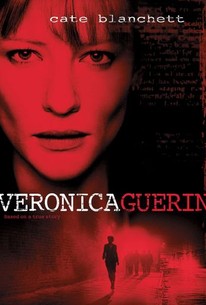 Movie Info
Producer Jerry Bruckheimer and director Joel Schumacher take on the real-life story of an assassinated Irish journalist in the dramatic thriller Veronica Guerin. Cate Blanchett appears as the title character, a relentless crime reporter for The Sunday Independent during the early '90s. Guerin's violent murder in 1996 led to a revision of Ireland's laws and the creation of the Criminal Assets Bureau. The movie picks up with her pursuit of the underground drug trade in Dublin, which she suspects is led by mobster Martin "The General" Cahill (Gerry O'Brien). When Cahill's gang is attacked, she suspects mobster Gerry "The Monk" Hutch (Alan Devine) is responsible. Not deterred by threats or gunshot wounds, she uses thug John Traynor (Ciarán Hinds) as an informer to help out her investigation of psychotic mobster John Gilligan (Gerard McSorley). Schumacher's protégé Colin Farell appears in a small role. ~ Andrea LeVasseur, Rovi
News & Interviews for Veronica Guerin
Critic Reviews for Veronica Guerin
Audience Reviews for Veronica Guerin
½
As a slice of Irish history (the 1990's) this star vehicle is invaluable, swapping the quaint and rustic land o'leprechans movie Ireland usually seen for a truer portrait, peopled by normal modern folk. But, they've left out why anyone would make the sacrifices this woman made, leaving a too slick biopic instead. Blanchett delivers nonetheless.
Kevin M. Williams
Super Reviewer
½
Powerful stuff based on true story of a brave lady journalist. Very much watchable.
familiar stranger
Super Reviewer
½
Aside from the state of Dublin that is shown at the begining of this film, there were no real surprises here for me. Though a bit predictable at times, it is still a good film. As sad as it is to say, it is people like Veronica Guerin (who do the right thing to spite the risks involved) that keep us progressing as a society. Their stories must be told to remind us that unless we fight for what is right, we will remain bogged down in everything that is wrong. I consider myself a huge Cate Blanchett fan, but I have to say her "Irish" accent here was a bit dodgy at times, but the performance was otherwise a very powerful one.