Veronica Mars
(2014)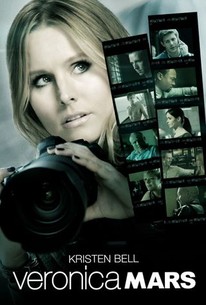 TOMATOMETER
AUDIENCE SCORE
Critic Consensus: It might be a more entertaining watch for diehard fans of the show, but Veronica Mars offers enough sharp writing and solid performances to entertain viewers in the mood for a character-driven thriller.
Movie Info
On the eve of graduating law school, Veronica Mars has put Neptune and her amateur sleuthing days behind her. While interviewing at high-end New York law firms, Veronica Mars gets a call from her ex-boyfriend Logan who has been accused of murder. Veronica heads back to Neptune just to help Logan find an attorney, but when things don't seem right with how Logan's case is perceived and handled, Veronica finds herself being pulled back into a life she thought she had left behind. (c) Official Site
News & Interviews for Veronica Mars
Critic Reviews for Veronica Mars
Audience Reviews for Veronica Mars
First and foremost will the Veronica Mars Movie satisfy the fans of the tv series? Absolutely. Will it satisfy non-fans? Yes. The Veronica Mars is everything a true fan can want- a return to form, sharp dialogue mixed with wit and strong developed characters. The Veronica Mars movie finally gets to embrace its noir tones and darker themes. The mystery is thriving and the love triangle finally has a resolution. I can't find a fault in the movie but hey I guess I'm a marshmallow.
Jarrad Climpson
Super Reviewer
Failed to strike a chord with me. I've not watched the series, let alone be its fan, and have no idea if it affects the viewing experience any which way.
familiar stranger
Super Reviewer
This is a great continuation of the Veronica Mars television show, and a thoughtfully planned ending to a saga that everyone wanted to see finished. Cancelled before its time was over, the original show had an edgy, yet wounded lead character who didn't take shit from anyone and solved mysteries because they interested her. In this update we see all our favorite supporting characters, we resolve the relationship between Logan and Veronica once and for all, and the writing is of the same quality as the original show. The only thing that felt strange was the way the film ended. It was very sudden, almost unplanned in its bland simplicity. It's not that it's uncharacteristic of Veronica, either, just that it's very out of nowhere. Otherwise I found every moment in keeping with its predecessor, and a perfect end to a lovely show.
Spencer S.
Super Reviewer