Veronika Decides to Die
(2015)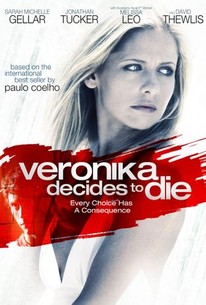 AUDIENCE SCORE
Critic Consensus: No consensus yet.
Veronika Decides to Die Photos
Movie Info
After a frantic suicide attempt, Veronika awakens inside a mysterious mental asylum. Under the supervision of an unorthodox psychiatrist who specializes in controversial treatment, Veronika learns that she has only weeks to live. (C) eOne
Critic Reviews for Veronika Decides to Die
All Critics (1) | Top Critics (1) | Fresh (0) | Rotten (1)
There's never a moment when Young seems in control of her material, while the performers flail and flounder, trying to unearth some measure of truth in the hoariest plot twist.

Audience Reviews for Veronika Decides to Die
½
Something really didn't work with this movie. I loved the book, I was really excited to hear there was a movie version. When I heard it starred Sarah Michelle Gellar, even more excited about it - surely she would be the perfect Veronika. Well... maybe not. I really like her as an actress, but this whole movie felt a bit off. I don't even think it is necessarily her fault as an actress... I think it was just adapted badly. I also found Erika Christensen off (and she is another actress I normally like), and I sure as hell didn't buy Jonathan Tucker as the hot guy. I read someone else refer to the "painful" masturbation piano scene, and they had that about right. Horrible. There's a few good moments in it, it's not a total write off, but it is extremely disappointing as the book was excellent and with the cast it had, this had potential to be a lot more than it was.
Nicki Marie
Super Reviewer
½
I really wish Veronika had died when she attempts suicide at the very beginning of the movie. That would have spared me from this painfully ('torturous' would be an exaggeration) meaningless & non-entertaining experience. The snail-pace of the movie only adds to the agony. Of course, those looking for some meaning in it are bound to find it even when/where it doesn't exist. Note that I'm not saying that the movie doesn't have even a single worthwhile moment. There are a few, very few aptly executed sequences, but I'm surely not gonna give it a higher rating merely on the merit of a few great sequences. In the past, I've given a few movies high rating based on a handful of incredible sequences (guess I last did it for the movie 'Dangerous Beauty'), but in those cases, the impact of those sequences was way too great. Apparently, that wasn't the case here.
familiar stranger
Super Reviewer
Holy shit. Wow. This is...impressively bad. Is it so much to ask that Sarah Michelle Gellar should get one decent movie role? When The Grudge is the highlight of your post-Buffy career, there is something seriously wrong. It seems a little unsporting to kick this one while it's down, because it's been floating around in release limbo for God knows how long, and I really have been pulling for Gellar's success. I'm sure she's gotten enough work to pay the bills, but between totally unilluminating dreck like this and acting across from a CGI dog like in Scooby Doo, she must be completely miserable in her career. She really isn't even the worst part of this movie; her performance is essentially a reprisal of Bitchy Buffy from the beginning of Season 2, only with a few more ~deep insights~ about the nature of the world. She seems to be trying, but her limited range sort of puts a muzzle on the darkness of her situation. This may not have been a problem, but in conjunction with the overwhelmingly bad script, everything falls apart in a matter of minutes. There's nothing here that fucking Girl Interrupted didn't do fifty times better. It's all one perpetual mental institution cliche, from the immeasurably crazier roommate to the wise but still crazy senior patient to the callous, misunderstood psychologist (who, I have to say, is embarrassingly terrible). Perhaps the worst misstep the movie commits is Veronika falling in love with an enigmatic mute who wanders around the hospital. I understand that she has little to lose and is free to love recklessly, but it seems beneath the character to latch onto this guy just because he's hot. Not half an hour earlier in the movie, she wrote a letter to a fashion magazine condemning their superficiality, and now she's hopping some pretty dude's bones? The culmination of all of this, by the way, is a piano masturbation scene that is too deliriously awful to put into words. I'm curious to see if the book expresses the thoughts we see here any more eloquently, because there are slivers of half-decent ideas that the screenplay more or less abandons. This, however, is more or less unwatchable. Anyone but the most diehard of SMG fans should leave this one be.
Drew Smith
Super Reviewer
Veronika Decides to Die Quotes
There are no approved quotes yet for this movie.