Vertigo
(1958)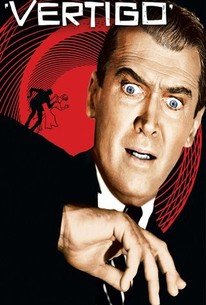 Movie Info
Dismissed when first released, later heralded as one of director Alfred Hitchcock's finest films (and, according to Hitchcock, his most personal one), this adaptation of the French novel D'entre les morts weaves an intricate web of obsession and deceit. It opens as Scottie Ferguson (James Stewart) realizes he has vertigo, a condition resulting in a fear of heights, when a police officer is killed trying to rescue him from falling off a building. Scottie then retires from his position as a private investigator, only to be lured into another case by his old college friend, Gavin Elster (Tom Helmore). Elster's wife, Madeleine (Kim Novak), has been possessed by a spirit, and Elster wants Scottie to follow her. He hesitantly agrees, and thus begins the film's wordless montage as Scottie follows the beautiful yet enigmatic Madeleine through 1950s San Francisco (accompanied by Bernard Herrmann's hypnotic score). After saving her from suicide, Scottie begins to fall in love with her, and she appears to feel the same way. Here tragedy strikes, and each twist in the movie's second half changes our preconceptions about the characters and events. In 1996 a new print of Vertigo was released, restoring the original grandeur of the colors and the San Francisco backdrop, as well as digitally enhancing the soundtrack. ~ Dylan Wilcox, Rovi
News & Interviews for Vertigo
Critic Reviews for Vertigo
Audience Reviews for Vertigo
The set-up is, ummm, preposterous, but once that's out of the way Hitchcock gets to meditate on stuff that really interests him, like obsession, loss, guilt, voyeurism, and even spacing out. Northern California has rarely looked as good either. As well, he might've had a few new tech toys to play with, which he does for some eye-candy dream sequences. His doppelgangers, Stewart and Novak, do well as stand-ins in the imaginative playground of his id. It's interesting that the medical condition that is the very title of the movie is the least of Hitchcock's concerns. As for "the greatest movie ever made" stuff, it's only fluff stirred up by and for lazy and bored conversationalists.
Kevin M. Williams
Super Reviewer
A cop who's recently retired from the force because he suffers from vertigo takes a job trailing an old college friend's wife and grows obsessed with the mysterious woman. A masterpiece of dizzying psychological depths.
½
Although I did find that the story told through this film was incredible, it did feel a tad slow at times, almost bridging on the fact that it is a Hitchcock film so nobody should worry. However, that is exactly the case here. Hitchcock is such a master class that you need not worry about this film dragging on too long, because there is a reason it does that and the conclusion is more than satisfying. I loved my experience watching "Vertigo", it just felt like it took a bit too long to get to the point. From the screenplay to the acting, the overall atmosphere of this film screams brilliance. It's not the type of film to watch over and over again. But it is surely a film that can be recommended over and over again to those who have not yet seen it. It is not at the top of Hitchcock's masterpieces, but it tries very hard to get there. "Vertigo" is surreal at times, and I loved it for that!
Vertigo Quotes
| | |
| --- | --- |
| John "Scottie" Ferguson: | You know, the Chinese say that once you've saved a person's life, you're responsible for it forever. |
| | |
| --- | --- |
| Madeleine Elster/Judy Barton: | Only one is a wanderer; two together are always going somewhere. |
| | |
| --- | --- |
| Madeleine Elster/Judy Barton: | If I do what you tell me, will you love me? |
| | |
| --- | --- |
| John "Scottie" Ferguson: | Anyone could become obsessed with the past with a background like that! |